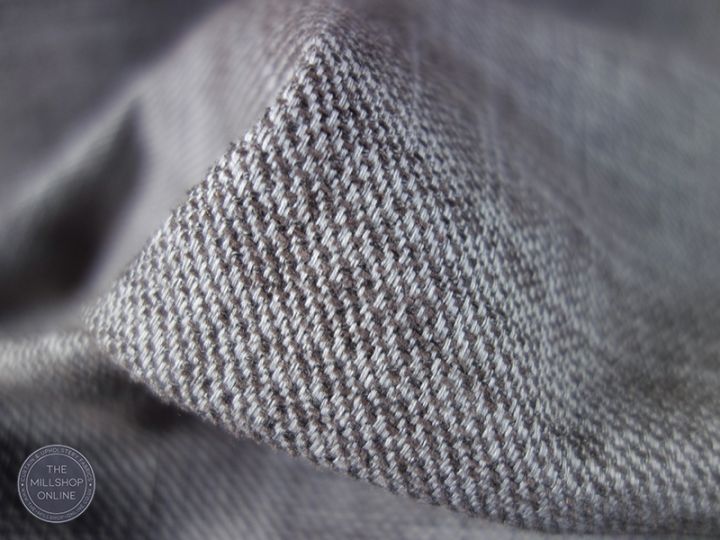 News
What Is Twill Fabric (And How To Choose The Right Twill For Your Project)
Twill fabric is something that we encounter everyday, yet we don't think about what it really is. One of the most popular weaves for clothing and upholstery, twill has been around for centuries, but that doesn't mean we necessarily know what projects to use it for.
If you're unsure about what twill is, or how to choose the right twill fabric, carry on reading!
WHAT IS TWILL FABRIC?
Twill is not a type of fabric itself, instead it describes how the fabric has been woven. It is characterised by the diagonal weave created by the weft thread (along the fabric's length) being woven over a warp thread (selvage to selvage) and then under two or more warp threads to create a diagonal channel known as a wale. 
Twill fabric is generally created with a darker front and a lighter back due to the yarns used - think your favourite pair of denim jeans! Multiple coloured yarns are often used to create distinct diagonal patterns, such as herringbone, houndstooth and tweed. 
WHAT ARE THE BENEFITS OF USING TWILL FABRIC?
Durable and Opaque - Twill's high thread count means that the fabric is thick and can withstand a lot of wear and tear, making it a popular choice for upholstery and curtains, as it won't let in a lot of light. Its thickness also means that it doesn't crease or wrinkle easily, meaning that it needs less ironing than fabrics made from plain weaves,

Doesn't show stains - The way in which twill has been woven means that it hides dirt and stains well. So, if you're someone prone to spillages then this may be a great option for you!

Drapes well - Twill is known for how nicely it hangs when used for clothing, sheets or curtains. 

Warm - The high thread count also means that twill is a suitable choice for insulation as air doesn't pass through easily. It's also slightly waterproof!
WHAT TYPE OF TWILL FABRIC SHOULD I CHOOSE?
The type of twill fabric you choose to complete your project should all depend on what properties you are looking for in a material. Below, we've listed the types of twill fabrics, their characteristics and what they would work best for.
NATURAL TWILL
This type of twill is made from natural fabrics, such as cotton. Cotton twill fabric, including denim and chino, is a strong choice for clothes that are worn year round. These lightweight, breathable fabrics are ideal for breathing fresh air into your curtains and upholstery.  Its breathability also means that it won't hold any odour - perfect for homes with pets or keen chefs!
Cotton twill is easy to clean, either by spot cleaning or machine washing. Beyond clothing, natural twill works well for curtains and furniture upholstery. 
SYNTHETIC TWILL
This kind of twill includes polyester, which has a slightly silkier feel to it when compared to cotton. It is known for its durability and resistance to most chemicals. It holds its shape well, won't shrink or stretch or crease easily. It traps moisture and is naturally hydrophobic, making it one of the most water-resistant twill fabrics - perfect for dressing windows that build up a lot of condensation.
Synthetic twill is also machine washable and tumble drier friendly! This means that it's a popular choice for outdoor clothing and could even work for outdoor upholstery on your patio furniture. 
SEMI-SYNTHETIC TWILL
Semi-synthetic twill is a variation of twill that includes two fabric types blended together. A popular choice is Viscose, which is soft to the touch, has a good weight to it and drapes really well. Viscose twill fabric works amazingly well for shirts, dresses and wide leg trousers. Semi-synthetic twills also work really well for curtains and curtain linings, or anything you want to hang well.
TWILLED WOOLLEN FABRIC
Twilled woollen fabric is known for its lustrous hand feel and its ability to keep you (and your home) warm during the colder months. It has all of the characteristics of natural wool, whilst also gaining the characteristics of a twill fabric. This makes it a great option for winter clothing and cosy homeware, as it'll keep you warm, remain resistant to creases and will hide stains well. It makes a great option for cushions, throws and blankets!
To find the perfect twill fabric for your project, shop our fabrics online. Alternatively, visit our Northamptonshire fabric warehouse or get in touch with us for expert advice.