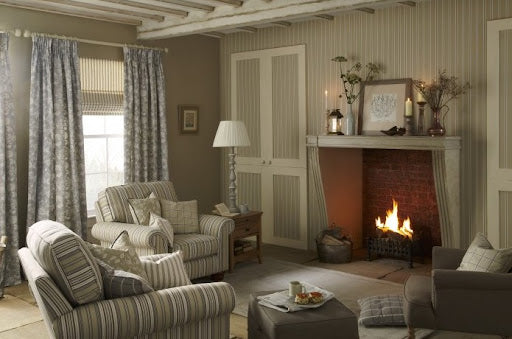 News
Your Guide to Ticking Fabric
Ticking is a classic, functional woven fabric suitable for every kind of project. Featuring a signature striped pattern in muted colours, this humble fabric is a fail-safe choice for many homes.
The striped pattern can help to bring a sense of balance to your space, perfect for busy rooms in the house. Equally suitable for indoor use as it is for your garden space, ticking is a versatile choice for your projects.
WHAT KIND OF FABRIC IS TICKING?
Ticking is a close weave fabric traditionally made from 100% cotton. You may also occasionally find this fabric in a polyester and woven cotton or a linen textile mix. It has a similar weight to denim fabric with a good resistance to wear and tear. 
The fabric is traditionally made using the woven method but it can sometimes be made using the knitting method. If durability is your preference, the woven option is a better choice as it is made using thicker yarns.
TICKING FABRIC HISTORY
The early days
History books suggest ticking was created as a solution to uncomfortable sleeping situations. In the middle ages, mattresses were made from straw - a far cry from the duck down filling that we are used to these days.
Since ticking fabric is soft and sturdy, it was used as a case for the itchy straw. Originally featuring a herringbone pattern, it has since evolved into the familiar vertical striped pattern that we recognise today.
Modern-day use
Late American interior designer Sister Parish is credited with being among the first to use ticking fabric for more than just utility purposes. Parish proved ticking was also perfect for plenty of upholstery uses. 
Thanks to her influence, it is common to see ticking used for soft furnishings and curtains. It is much rarer to find ticking used for modern mattress covers, with manufacturers favouring damask instead.
WHY IS IT CALLED TICKING FABRIC?
The word 'ticking' actually comes from the Greek word theka which means case or covering. This refers to its origins as a fabric for covering mattresses. You may also hear the ticking print referred to as the 'mattress stripe' print.
TICKING UPHOLSTERY FABRIC: HOW TO USE IT
As a tightly woven, heavy fabric, ticking is an ideal choice for many upholstery projects. Ticking fabric has a high Martindale rub test, making it a suitable choice for hard-wearing furniture that sees frequent use.
It can be also used for refreshing and reviving furniture like armchairs, footstools or headboards. As a soft feel fabric, ticking is an ideal choice for window treatments like curtains or roman blinds as it drapes beautifully.
COORDINATING YOUR TICKING STRIPE FABRIC
Plain ticking fabric makes for a brilliant base for any room, creating endless decorating possibilities. Here are some of our top ticking colour fabrics and how you can style them:
BLUE
If you're looking to create a seaside themed room, pale or navy blue and white ticking fabric is a perfect choice. Best used for bedrooms, use the blue ticking fabric on your headboard to create a bold feature. Continue the nautical theme with matching blue bedding and a touch of red with a few throw pillows.
RED
For a french country inspired design, use a red and white ticking fabric to upholster armchairs in your dining room. An easier alternative is to create seat pads for your chairs! For a more authentic touch, create curtains and cushions with the red ticking. Also, consider using wooden furniture and keeping walls neutral.
GREEN 
When using a green ticking fabric, it is a good rule of thumb to keep your other interior decor fairly minimal. This fabric is a real stand-out and would be suited to a common space like a living room. Use it for upholstering sofas or something smaller like a footstool or scatter cushions. 
BLACK
If you're a pattern enthusiast, opt for a black and white ticking fabric. This classic colour works well with bolder patterns such as floral, bird and even tropical prints! Create something that is completely unique to your home with a bold pattern combination.
Explore our full range of ticking fabric today and inspire your upcoming upholstery projects!