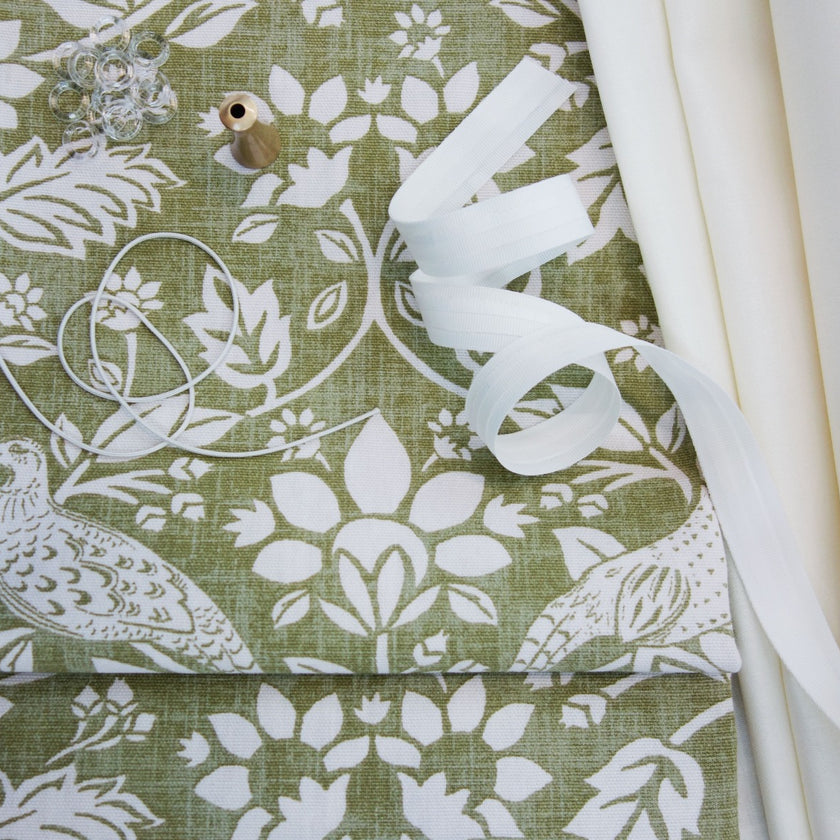 News
Ordering Material by The Metre: How to Get it Right
Whether you're a keen upholsterer or a first-time fixer-upper, getting the right amount of material is the best place to start. Buy too much and risk wasting funds, or not enough to repurpose into another project. Buy too little and watch your dream cushion turn into a disaster!
At The Millshop, we make things easy for you by offering upholstery fabric by the metre. This helps to calculate costs and makes for a more accurate fit – saving you even more time and money in the long run. 
But as any upholsterer knows, it's more than just the project itself that determines how much fabric you'll need. You'll also need to consider:
The material itself – is it rigid or stretchy?

The shape of the item

The purpose, such as chairs or curtains

Any extras you'll need such as a skirt or welting.
MEASURING YOUR FABRIC
Whether it's a cushion, chair or curtain, you can measure material by the metre more easily by using graph paper. Sketch your design and make sure you allow for extras such as seams or gathering, pleating and crimping.
Next, it's time to decide the amount of fabric based on the type of furniture you're covering.
HOW TO MEASURE FOR ROMAN BLINDS FABRIC
Of all the upholstery projects, measuring for Roman blinds is probably the easiest. A nice lightweight material that hangs freely and allows for a little light to pass through is ideal.
To start, decide whether they will be hanging inside the window recess or outside. If they will hang inside, you should measure the shortest area of the pane, whereas you'll need to check the largest area for those hanging outside of the recess.
In both cases, you will need to include the widths of fabric and the finished drop. Use a metal tape measure and make sure you measure at exactly where the blind will be fitted, to account for window catches or anything else getting in the way. 
Measure to the nearest 0.1cm and make sure you do all windows – even if they look the same size!
HOW TO MEASURE FABRIC FOR CURTAINS
Curtains are one of the trickier household items to measure the fabric required – particularly as some of it comes down to personal choice. For example, if you want your curtains to 'puddle' at the bottom, you'll need to choose the right material and make sure you purchase extra.
Start with the curtain poles. Aim to position the poles around 10 to 20cm above the window, and 15 to 30cm either side. Don't include the finials when measuring the poles. 
Next, the heading will make a difference – for example, eyelet curtains will eat into the total fabric length, whereas curtains hanging off a track will hang lower. Make sure you allow for this, such as by measuring the height of the eyelets. Typically, you should add an extra 5cm for eyelets.
For a simple tab-top curtain, all you need to measure is from the pole to the floor – plus any extras for puddling or drops.
MEASURING WIDTH FOR CURTAINS
Generally, you can determine width by length and style of curtain. This can also be dictated by your desired fullness, for example:
'Floppy top curtains' should be 2 x as wide, or 2.5 for extra fullness

Wave and double pinch pleats should be 2.3 x as wide

Triple pinch pleats should be 2.5 x as wide.
For a simple calculation, multiply the track or pole width by the chosen fullness as listed above. Then divide by the fabric width (typically 137cm). Then multiply the drop measurement by the width for your final total. For example, a 175cm drop x 2 fullness would equal 350cm, which means you'd need to buy 3.5m of fabric.
HOW MUCH FABRIC FOR PENCIL PLEAT CURTAINS?
Just as we need to remember extra fabric for gathering or seams, we also might have to consider pleating. As a general rule, you should use 2x fullness for eyelet and pencil pleat curtains, or 1.5 x fullness for front of house stage curtains.
We will always measure up to the highest metre so that you're never caught short!
HOW TO MEASURE FABRIC FOR CUSHIONS
Cushion covers are arguably simpler, though the filling can add an extra variable. As a rule of thumb, you should measure the cushion from the seam (at the back if it's on a chair). You should then double the number and add an extra 2.5cm, which will allow the fabric to cover the whole cushion, including seams. 
You could consider adding another 2.5cm if you're aiming to stuff the cushion with a lot of filling.
HOW TO MEASURE FABRIC FOR CHAIRS
Chairs will need to be measured at their widest point –normally, standard material by the metre will cover dining chairs. If yours is larger than average, always measure at the widest point.
You can make multiple chair measurements easier by multiplying the number of chairs by 0.75, then dividing by 2. This will give you the total amount in metres.
REMEMBER TO CONSIDER THE PRACTICALITY OF YOUR CHOSEN FABRIC
We always advise you to choose the best fabrics for your applications. For example, a decorative cushion is going to go through far less wear and tear than one that is sat on daily. When buying from The Millshop, look for our icons online. These will show you what the material is most suitable for – such as a curtain symbol for curtains or Roman blinds.
You'll also find information about rub tests and washing instructions. Please note that once the fabric has been cut for you, it cannot be returned (though this does not affect your statutory rights). Our teams would be happy to talk to you about your specific measurements and guide you through the process. Order material by the metre online today!