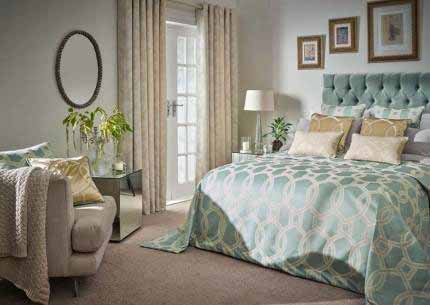 News
Are Headboards Necessary? : How To Make A Fabric Headboard
Headboards: we've all seen them in bedrooms throughout history, but have you ever stopped to think why they actually exist?
We're here to explain why headboards are more than just necessary. Headboards form a statement interior design trend, for this and many years to come.
WHY HEADBOARDS ARE NECESSARY
Historically a headboard was designed to create a barrier from the cold for sleepers in less insulated buildings. Whilst headboards may no longer be necessary for insulation in most homes, they still offer many benefits.
You may consider a headboard for a number of practical reasons:
- to create concealed storage

- to protect the wall from marks and stains

- or to keep your pillows in place.
Nowadays there are three main reasons that people choose to install a headboard on their bed:
- Design aesthetic

- Feng Shui

- Practical support.
HEADBOARDS FOR INTERIOR DESIGN AESTHETICS
Sometimes a simple bed without a headboard can look quite stark against the wall. A headboard helps to soften this starkness and make the bed look more inviting. A fabric headboard transforms a simple divan bed into a focal point in the bedroom. What's more, oversized headboards are increasingly popular to create a luxurious, sumptuous interior design.
If you install a fabric headboard, you can also match or complement the fabric with your curtains. Featuring the same fabric throughout your bedroom helps to tie all the elements of the design scheme together.
HEADBOARD FENG SHUI
In Chinese thought, Feng Shui is a system of laws considered to govern spatial arrangement and orientation. These interior design laws relate to the flow of energy, or 'chi'. Designers consider the favourable or unfavourable effects of feng shui when siting and designing buildings.
One of the most common Feng Shui suggestions is to have a headboard on your bed. Headboards are said to create the sense of a strong and stable mountain at your back when sleeping. Bed heads are also thought to increase intimacy and connection - particularly headboards crafted from soft, sumptuous fabrics.
SUPPORT WHEN SITTING UP IN BED
A headboard can be ideal for sitting up against in bed. Whilst providing healthy support, a headboard also protects your back from a cold wall. Tufted headboards, or upholstered options can also be cushioned, which makes them comfortable to lean against when sitting up.
UPHOLSTERY FABRIC HEADBOARDS
Statement headboards, upholstered in soft, plush fabrics are a huge interior design trend. From hotels to homes, a fabric headboard adds style, warmth and comfort to a bedroom. What's more, headboard coverings can be made from almost any upholstery fabric you choose. So, whatever your style, there's a headboard design for you!
CHOOSING FABRIC FOR HEADBOARD COVERINGS
When it comes to choosing the right fabric for your headboard, it's important to consider both the aesthetic appeal and the practicality of the material.
Here are a few fabric headboard options to consider:
NATURAL FABRICS - COTTON AND LINEN
Commonly used for upholstered headboards, cotton and linen are flexible, practical and affordable materials. Natural fabrics are:
- Long-lasting

- Anti-microbial

- Soft and Comfortable
However, cotton and linen are prone to absorbing stains and moisture. Natural fabric headboards may also deteriorate in bright sunlight.
SYNTHETIC FABRICS - POLYESTER AND CHENILLE
Popular synthetic fabrics for headboards include polyester and chenille, as these materials bring softness and sound-absorbance for a cosy bedroom. Synthetic fabric headboards are:
- Cushioned

- Durable

- Stain-resistant and less likely to fade
However, synthetic fabrics may absorb hair oils as you lean on them, resulting in a stubborn stain.
VELVET HEADBOARDS
If you're designing a headboard for aesthetics, you can't get much more luxurious than a velvet upholstered headboard! Our velvet upholstery fabrics can be used to create a fabric headboard that is:
- Luxurious and shiny

- Soft and comfortable

- Durable
But, velvet is not the easiest fabric to clean, so it may not be ideal for high traffic family bedrooms.
LEATHERETTE HEADBOARDS
Made from man-made fibres, leatherette creates a chic modern look for your headboard. Perfect for a stylish, contemporary bedroom, leatherette headboards are:
- Waterproof and non-porous

- Wipe-clean

- Resistant to fading

- Cost-effective, compared to real leather.
However, leatherette headboards may sustain scratches or even crack from vigorous wear and tear.
FABRIC HEADBOARD IDEAS
These images all feature fabric upholstered headboards, crafted using different designs and textures from the iLiv fabric range.
Use these images to inspire your own fabric headboard ideas. Or browse our full range of upholstery fabrics to find your perfect style.