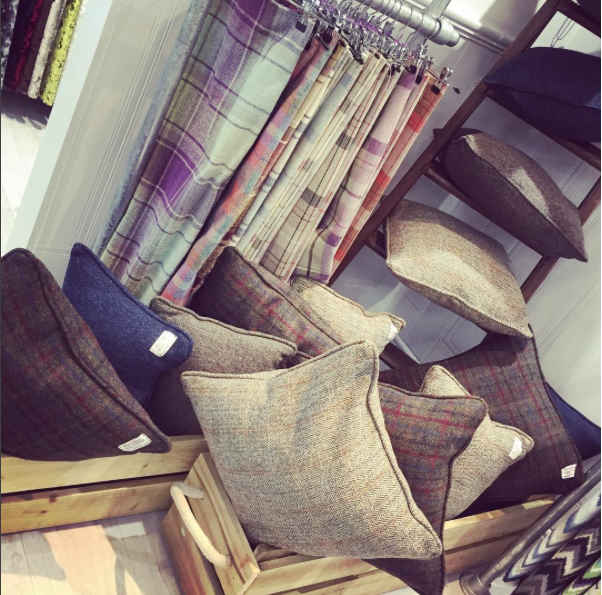 News
Make Your Own Cushions: Cushion Making 101
Cushions can be relatively easy to make but instantly add style, comfort and decoration to your room. If you're undecided about whether to make your own cushions, we've compiled some of the most convincing reasons why you should!
If you're new to cushion making, we've included some guidance for choosing fillings and fabric for your cushion covers. Whether this is your first handmade cushion project or a refresher course, we've summarised the basic steps for how to sew a cushion cover.
REASONS TO MAKE YOUR OWN CUSHIONS
MAKE CUSHIONS TO MATCH YOUR CURTAINS
Adding matching cushions is an easy way to tie together your interior design. Once you have chosen your ideal curtain fabric, or made-to-measure roman blinds, why not use it all over?!
Use the same curtain fabric for cushion covers, to create a complementary, professional design scheme. Making cushions can help to bring the fabric further into the room, for added impact without appearing too "matchy-matchy".
MAKE USE OF WASTAGE FABRIC
Often, making curtains or roman blinds will lead to plenty of leftover fabric. This is usually from where you have had to allow excess for the pattern to match. Prevent this fabric from going to waste by making cushion covers. Not only will your cushions be practically free, but they'll also be environmentally friendly!
SAVE MONEY ON DESIGNER CUSHIONS
If you are looking for unique or designer aesthetics, good quality cushions can be very expensive. Making your own cushions is a great option to help save costs. Combine cheap pieces of fabric with cost-effective polyester cushion pads for a bespoke result at a fraction of the price.
PLUS, CUSHIONS MAKE GREAT HANDMADE GIFTS!
Custom cushions make a lovely present for someone, which no one else could buy. It can also be relatively inexpensive to make cushions as gifts.
HOW TO SEW A CUSHION COVER
Cushion making is a relatively simple upholstery craft, yet the results can make a real impact. For beginners, we recommend making a cushion cover without a zip. So here's a step-by-step guide for how to make an envelope cushion cover.
Step 1: Always iron your fabric before you start, to prevent shrinkage or damage in the future.
Step 2: Measure your cushion pad and add an additional 3cm seam allowance to the width. For the length, calculate double the width plus 10cm - this will make your envelope overlap.
Step 3: Mark out these measurements on your fabric, using tailor's chalk and a setsquare. Then cut out the fabric you'll need.
Step 4: Create a double hem at the short ends of your fabric. Do this by folding the fabric over by 1.5cm, tack in place, and fold again. Then sew these hems in place, using a sewing machine set to 'straight stitch'.
Step 5: Now it's time for your flat piece of fabric to fold into a cushion cover! With the outer surfaces of the fabric facing each other, fold the fabric in half, leaving 10cm overlap to create the opening. Pin along the unsewn edges and tack together.
Step 6: Using the same settings on your sewing machine, stitch the tacked sides together. You should now have a three-sided pocket with an opening at one end.
Step 7: Turn the cushion cover the right way out and you're done! Insert your cushion pad and tuck it in with the envelope closure.
CHOOSING FABRIC AND FILLINGS FOR YOUR CUSHIONS
DIY CUSHION FILLINGS
Making your own cushions allows you to pick whether you would like a feather cushion pad or a polyester cushion pad.
Polyester cushion pads are comfortable and plump, but can flatten over time.
Feather-stuffed cushions offer a luxurious feeling of maximum squashability, but they may require plumping up now and again. Some people may be put off by feathers protruding from their cushions. That's why we offer featherproof cambric fabric to stop feathers coming through!
Cushion pads also come in a range of different shapes and sizes. Square cushions are a classic choice, and they look great stacked along a sofa or bench. Round cushions may be more suitable if you're creating a single cushion, as a statement on an armchair.
Alternatively, bolster cushions are a popular choice. These rectangular cushion pads offer a slightly unusual shape, but they still have a simple pattern for making cushion covers!
BEST FABRICS FOR CUSHION COVERS
You can use any of our high-quality upholstery fabrics to make your own cushions. First, you must decide on the right style or print to suit your space.
Whether your cushions are intended for use indoors or outdoors will also affect the type of fabric you should use. Outdoor fabrics ought to be waterproof and stain-resistant. Whereas indoor cushions can make use of more luxurious fabrics, like velvet or chenille.
Cotton and linen mix fabrics are the most common choice for cushion covers. They're hard-wearing, washable and the natural fibres won't irritate sensitive skin. By blending cotton and linen together, you can avoid the curse of creased cushion covers!
Chenille fabric makes wonderful cushion covers as it is soft and fuzzy. Made up of synthetic polyester fibres, chenille cushions are built to last without wrinkling, losing shape or fading.
Wool curtains create a warm and cosy environment that is just asking for cushions! The natural fibres of our 100% pure wool are hypo-allergenic, for comforting cushions in any home. However, wool cushions are not ideal for busy family homes as they may shrink when washed.
Velvet cushion covers add instant luxury. Create sumptuous crushed velvet cushions or sleek contemporary velour cushion covers. Both fabric types are hard-wearing and reflect the light beautifully, whilst boasting almost unrivalled softness.
ORDER CUSHION PADS AND FABRIC FOR CUSHION COVERS ONLINE
We sell a range of cushions pads, which are available in our online fabric shop and our fabric warehouse in Northampton. We stock both polyester cushion pads and feather pillow inserts to meet your comfort requirements. For aesthetic decisions, our range includes various shapes and sizes: square cushions, round cushion pads and bolster cushion inserts.
If you're not quite ready to embark on making your own cushions, there are other ways to update your decorations. You could simply order a new filling pad to give existing cushions a new lease of life. Or, browse our range of fabrics for made to measure designer cushions - no one needs to know that you didn't make it yourself!
Browse our full collection of fabrics online or visit us in store for expert advice.