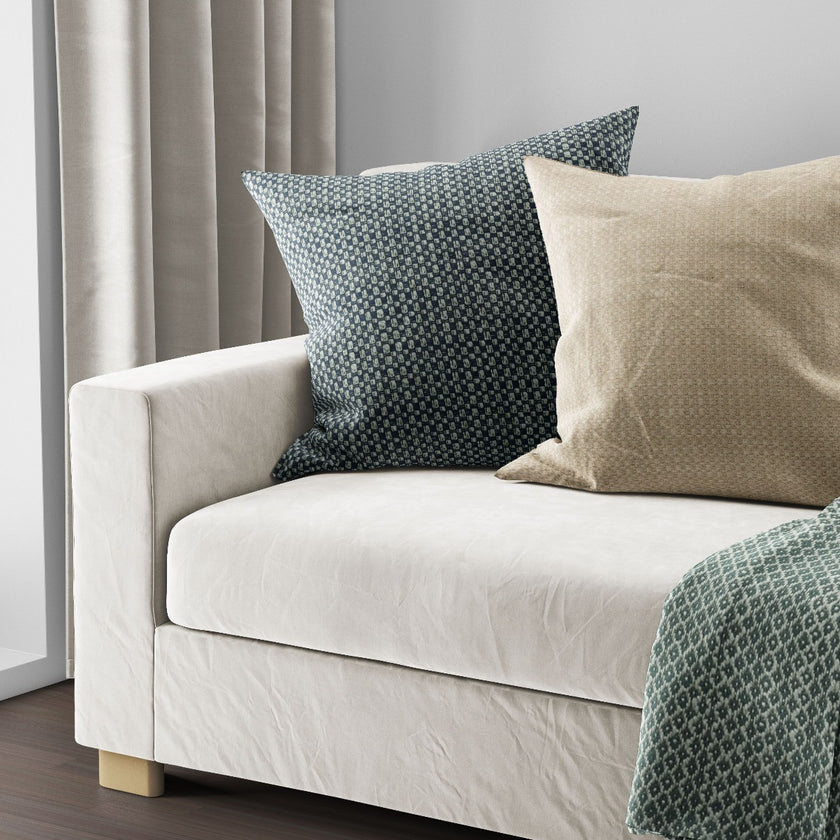 News
How to Keep Your White Upholstery Fabric Clean
Choosing a white fabric is a simple way to instantly brighten and open up your space, but it comes at a price. If you have ever spilt something on a white cotton fabric t-shirt before and frantically tried to clean it up before being left with an unfortunate discolouration, then you will know what we are talking about!
Consider cleaning your upholstery regularly to prevent a build-up of dust and dirt. An added bonus: regularly cleaning will make future stains easier to manage too. 
That being said, there are a plethora of remedies to help with stain removal that offers a chance at salvation. Generally, a good rule of thumb is to gently blot small stains with a damp cloth to reduce devastation as much as possible. For tougher stains, we recommend following the guide below for specific cleaning.
INITIAL CONSIDERATIONS BEFORE CLEANING WHITE FABRIC
Before attempting to clean any fabric without expert assistance, make sure to always refer to the manufacturer's care instructions. This cautious approach will help to avoid permanent damage by using any products that are not suitable. Even water can be a risky solution if used on a non-water soluble material. You can locate the upholstery fabric tag on the underside of most furniture and it should state one of the four main codes - W, S, S/W or X. Here is what each of those cleaning codes means:
W - This fabric can be cleaned using water or a water-based cleaner. You can also use a steam cleaner to help lift stains and dirt from your upholstery.
S - Do not use water on this fabric. Use dry solvent cleaners only or dry-clean professionally if the fabric is removable.
SW or WS- Both solvent and water-based cleaners are suitable for spot-cleaning stains on this fabric. You should avoid using too much water to prevent leaving a lingering mark.
X - This fabric is only to be cleaned using a vacuum. Use the brush attachment for trickier areas. If you can not remove the stain this fabric should be taken to a specialist, do not use shop-bought cleaners.
HOW TO CLEAN A WHITE FABRIC SOFA AT HOME
Cleaning a fabric sofa is no small feat and should be done with the utmost care. Work quickly to avoid spoiling your central living room piece. Before diving in with your cleaning solution, remember to check the cleaning codes and always test on an inconspicuous area to ensure it is safe to go ahead. 
Unless the care label states otherwise, you should always vacuum your sofa first to remove any underlying dirt that may embed itself into the surface. You can use a damp cloth and a foam cleaner, either homemade or shop-bought is fine, and dab off. For prominent stains allow the solution to sit for a few minutes before dabbing off. Always check the suitable temperature of water for the type of stain you are dealing with as some stains will not react well to either hot or cold water. 
Finally, once the sofa is completely dry you should vacuum for a second time to ensure all of the cleaning solution is removed from the sofa. If necessary, repeat the process until you are satisfied with the result.

HOW TO CLEAN A WHITE FABRIC HEADBOARD
Cleaning a headboard works much in the same way as cleaning a sofa. You should begin by vacuuming top to bottom- it helps to be proactive and to do this regularly. Use a mild detergent mix and an absorbent cloth to gently blot any areas that require more of a deep clean. Again, be sure to check the manufacturer label to avoid worsening any problem areas.
To deodorise your headboard, apply baking soda and gently pat it into the fabric. Allow this to sit for a few hours before vacuuming any remaining powder, this will absorb any unwanted odours and oils. If you're still deciding on the fabric for your headboard (and unsure whether white is right for you) take a look at the guidance on our blog.
HOW TO CLEAN WHITE FABRIC DINING ROOM CHAIRS
If you have taken the brave decision to choose white dining room chairs, naturally you may find yourself with a regular stain problem. This means you'll want to avoid constant dry cleaning and harsh abrasive products that could wear your upholstery down over time. 
For all spills, make sure to work quickly with a clean towel to remove any excess liquid using a gentle blotting motion. Most common kitchen or dining room spills can be cleaned using a cold cloth i.e coffee and tea, so try to avoid using warm water where possible. 
If water alone doesn't do the trick, use a cleaning product to aid with more stubborn stains. You can also use homemade solutions like white vinegar or rubbing alcohol, start with a small amount to test how well it absorbs first.
If you still can't remove stains and spots in your white fabric, it's probably time to try something new. This doesn't have to mean buying new, you could try reupholstering using our range of upholstery fabrics or use a cover for a quick fix. 
For more expert cleaning tips and advice, please don't hesitate to get in touch with us at The Millshop Online!