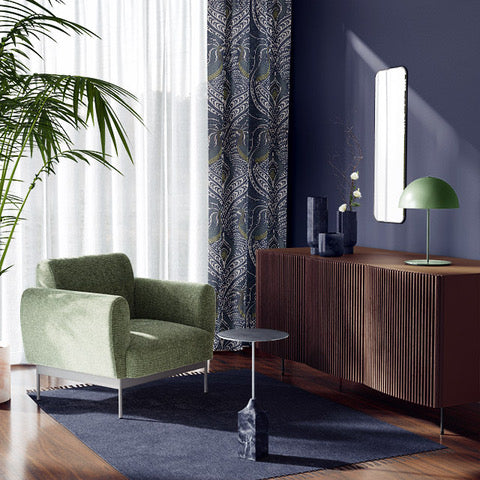 News
How much are Made to Measure Curtains?
In this guide we will look at the advantages of purchasing a bespoke made to measure pair of curtains as opposed to a ready-made pair or making the curtains yourself. As well as looking at the cost of a made to measure curtain and the factors that influence these costs. 
How much should good made to measure curtains cost?
The cost of made to measure curtains can vary greatly. This cost is influenced by things like your fabric choice, lining choice, the drop and width measurements, the heading style, and the finish of the curtains. All these factors need to be considered before a final cost can be given.
The price of our made to measure curtains typically starts from £150.
If you were to have a simple pair of machine finished pencil pleat headed curtains this would take less material and time to make up than a handstitched, pinch pleat, interlined pair of made to measure curtains.
Why should I get made to measure curtains?
Made to measure curtains are tailor made to perfectly fit your window's measurements and the finish will be ten times better than you can imagine.  You can just feel the difference, the pattern matching is spot on, the curtains are weighted with mitred corners and with beautifully stitched headings and blind hems. 
Are made to measure curtains worth it?
Well, the simple answer is yes! Having made to measure curtains is an investment for your home. They are an addition to your interior that are often seen as a statement piece as well as having the benefit of adding insulation at your windows therefore reducing your energy costs.
Most people have their curtains at their windows for years so if you calculate the cost over how many years you will be sitting looking at them, they are certainly worth it. We invest in the furniture in our homes so why not our curtains?
 How long do good quality made to measure curtains last for?
A good quality pair of made to measure curtains can last many years if they are cared for well. When a curtain is lined with a good quality lining this protects the main curtain fabric from sunlight damage and fading. Our Solprufe Cotton linings withstand the effects of light for twice as long without fading as do the Blackout thermal linings.
Lightly vacuuming your curtains to keep them dust free is an effective way of preserving their life. So, you can expect to get 10, 20 even 30 years life out of your curtains with very good care
What to look out for when buying made to measure curtains?
Look at the options available from the company that you are purchasing from. This will give you an indication on how well your curtains are made and the linings and interlinings that are available. Obviously, the price will reflect the options that you choose. Another indication of how well your curtains are made is to look at the lead time. A well-made pair of curtains will usually have a lead time of approx. 4 weeks.
If you are having curtains made for a bedroom, then a blackout lining is a good option.
If your fabric is thin and you want your curtains to look plush then adding an interlining will achieve this luxurious look. 
 Is it cheaper to make curtains or buy?
It is always cheaper to make your own curtains but depending on your skill level will determine how your finished curtains will look. Pattern matching and joining widths of fabrics can be trickier than you think!
Made to measure curtains are tailor made to perfectly fit your window's measurements and the finish will be ten times better than you can imagine.  You can just feel the difference, the pattern matching is spot on, the curtains are weighted with mitred corners and beautifully stitched headings and hems.
If you are planning to have your curtains at your windows for many years, the cost of the made to measure may end up being well worth it.  
What is the best way to measure for curtains?
Using a steel tape measure and maybe an extra pair of hands to help with the measuring.
We would always strongly recommend that your track or pole is fitted before measuring to get the most accurate measurement.
If you are hanging your curtains from a pole, measure the width of this pole between the finials and for your curtain drop measure from the bottom of the pole ring to your finished length. Your curtains will sit under the pole rings.
If you are measuring a track, then measure the total width of the whole track and for the drop measure from the top of the track to the finished length. Your curtains will cover the track.  
If you are having eyelet curtains then measure from the top of the pole to your finished length, your curtain maker will add 3cm to this for the stand up over the eyelet ring.
How much wider than my window should my curtains be?
When you order a made to measure curtain the curtain maker will calculate enough fabric based on your width measurement to create your required gather but as a general guide a pencil pleat heading, and eyelet curtain will be 2x gather and a pinch pleat heading will be 2.5x gather.
 Should made to measure curtains touch the floor?
This is a personal preference and depends on the look you are trying to achieve in your home. As a general guide for floor length curtains, they would need to be just touching the floor or 1cm up from the floor.  If you wanted a kicked look then add 2-3cm to the length and for a full puddled look then between 10-20cm would need to be added to the length to achieve this look.
 Should made to measure curtains cover radiators?
We suggest not covering a radiator with curtains. By doing this you reduce the amount of heat coming into the room. The heat would just rise at the back of the curtain and it would be a pointless exercise trying to heat the room from the covered radiator. Where you have a window above a radiator the guide is if you want a sill length curtain then measure, typically 0.5cm above the sill.  If you wanted a curtain below the sill, then measure 15-20cm below the sill or 2cm above a radiator.
How much width of fabric do I need for curtains?
This would be based on the width of your track or pole combined with the heading style and the actual width of the fabric that you are using.  Calculated together this would then decide how many widths would need to be put into the curtains to create enough gather.  When you are ordering a made to measure curtain all these calculations are made for you to ensure your curtains have the perfect amount of gather in them.
How are double pleat curtains calculated?
For a double pinch pleat curtain we use a guide of 2.5x gather to calculate how much fabric is needed to create the correct number of widths, the seamstress will then have plenty of fabric to be able to place the double pleats at the correct intervals along the width of the fabric.
 How do I measure curtain width?
The measurement that you need to create a made to measure pair of curtains is the width of the total track or the pole between the finials, preferably in centimetres.  The seamstress making the curtains would then calculate from this width measurement how much gather to put into the curtain depending on the heading style that you choose. As a guide they would work to 2x gather for Pencil Pleat and Eyelet Heading and 2.5x gather for Double or Triple Pinch Pleat Heading.
How do I work out the repeat of a curtain pattern?
The method for working out a pattern repeat on fabric is as follows.  Firstly, you would need to measure in centimetres your finished drop.  Then you would add the amount you want to use as allowances for headings and hems (we use 30cm).  Next you would find out what your pattern repeat is on the fabric that you have chosen (this is the vertical pattern repeat).  Once you have all of this information the method to work out how many pattern repeats to put into each width/drop you are cutting is as follows:
Finished drop 120cm + allowances 30cm = 150cm
Pattern repeat = 32cm
150cm divide by 32cm = 4.68 pattern repeats, therefore you round up to the nearest full pattern repeat, therefore 5 pattern repeats.
Each pattern repeat is 32cm x 5 pattern repeats needed for width/drop; therefore, each drop/width needs to be cut at 160cm this will ensure your patterns match perfectly across each width of fabric.
 What are the different types of curtain headings and which curtain heading is best?
Curtains can be made with a variety of different heading styles, and this choice is determined by the look you are trying to achieve.  You can have a pencil pleat heading which is a uniformed gather and can be a 3" or a 6" in depth depending on the length of your curtains. A smart elegant style that is often chosen for a formal look is the pinch pleat heading which can be a double or triple pleat.  Another option is the modern uncluttered look of an eyelet heading.  This allows the curtain to stack back very neatly and shows off a patterned fabric to its full potential as there is no distortion from gathers or pleats.
 Which curtain heading uses the least fabric?
A Pencil Pleat Heading will use the least amount of fabric as the fullness can be adjusted depending on the widths of fabrics you have used so creating a full gathered pleat or more of a gentle ruffle.
What's the difference between pencil pleat and pinch pleat curtains?
A pencil pleat heading is by far the most popular heading and is a uniformed gather that when pulled is designed to looks like a row of pencils all standing together. A Pinch pleat curtain can look formal and elegant and is a handmade heading which is made to fit your track or pole by creating 2-3 pleats and gaps between them across the width of your curtain.
 Is it better to have plain or patterned curtains?
Again, this is personal preference and dependant on the look you are trying to achieve, the style of your home and what other patterns you have within your room. With a plain fabric you can use this as a strong base and incorporate pattern in your design with cushions and rugs.  Often a couple of completely different patterns in a room will work well together possibly matching the colours, the patterns usually will be quite different like a stripe with a floral.  Remember that a patterned fabric can be distorted by gathers and pinch pleats so to show off the pattern without distortion an eyelet heading will achieve this.  Some fabric patterns can work well with a pinch pleat if the pattern is worked into the pleats like a stripe.
 What is the most luxurious fabric for curtains?
Velvets and chenille's with a plush soft feel tend to look luxurious and by combining rich colours with this type of fabric.
Silks and fabrics with a sheen.
However, by adding a layer of interlining to almost any fabric you can transform the visible drape, weight, and feel of the curtains.
You have now added a luxury finish.
What colour should my living room curtains be?
They can be any colour that you like.  You could blend them into the wall colour.  If you have a patterned wallpaper, you could pick out one of the colours to co-ordinate with your curtains.  This can really pull a room together.  Maybe match the curtains with the largest upholstered piece in your room like your sofa. You may have an impressive statement picture of piece of artwork that you want to pick a colour for your curtains all of these little co-ordinations pull your room together.
 Which type of curtains are best for bedroom?
If you are trying to reduce the amount of light coming into a bedroom and the curtain has the most blackout properties, then a pencil pleat or a pinch pleat heading is better than an eyelet. An eyelet will allow light at the top of the window through the eyelet rings. Also ensuring that the curtain is lined with a blackout lining.
 Now that you are armed with all the answers to your Made to Measure curtain questions you can make a choice on whether you are going to make your own pair of curtains or have a bespoke Made to Measure pair made up to fit your windows perfectly.
Look at our huge range of curtain fabric designs and linings on our website or choose your fabric to order your Made to measure Curtains on our website.