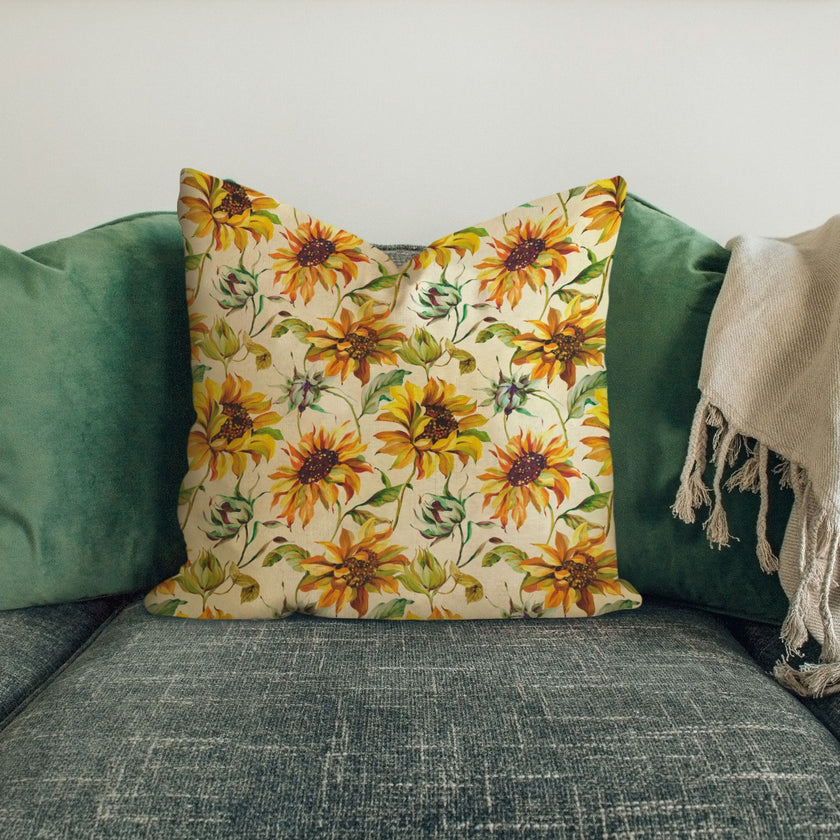 News
Choosing The Perfect Fabric For Your Home | the-millshop-online
We spend a lot of time in our home, so it's important that we're happy with the way that it looks. However, when we begin decorating, choosing the perfect fabric can be overwhelming - there are so many options to choose from!
Knowing what to look for can help to alleviate some of the stress, which is why we've put together this blog with our tips on choosing fabrics for interior design, take a read!
TAKE YOUR STYLE PREFERENCES INTO ACCOUNT
When beginning your project, one of the first things you should ask yourself is "what's my style?". Knowing your interior likes and dislikes will help you make decisions about your own home. If you're not entirely sure how you'd like your home to look, browsing Pinterest can be useful. You can save pictures and put together mood boards to refer back to when it comes to designing your rooms.
You should also decide what colours to go for, do you want to match the colours that already feature or would you prefer a contrasting colour that stands out? The colours that you select can actually affect your mood, so consider what the room will be used for first. It's said that warmer colours can encourage conversation, so these tend to work well in living rooms. 
HOW TO CHOOSE SOFA FABRIC
There are a few things to consider when choosing the best fabric for your sofa, as a sofa's colour can make a dramatic difference to your whole living space. 

FABRIC COLOUR
Arguably the most difficult part of choosing a sofa fabric is choosing the right colour. Take into account your current colour scheme and decide whether you want to make a bold statement by going for a contrasting colour, or just match what you've currently got in place. You should also decide whether you want a plain fabric, or would prefer something printed as both can add fun pops of colour and interesting detail to the room.
Darker fabrics should be kept out of direct sunlight, as they can fade quickly. However, lighter colours will show dirt and marks more easily, so if this is what you prefer then ensure that the fabric is washable! A good compromise is a taupe or grey colour, they match most colour schemes and will hide marks, plus you can contrast the grey with a range of bright coloured cushions!
FABRIC TYPE
Not only is colour important when it comes to choosing upholstery fabric, but the type of fabric itself is too. You should consider how much wear and tear your sofa will experience. Wool blends look great, but are best suited to rooms that won't be used much. If you have children or pets, cotton fabrics work well as they're easily washed, won't cling onto dust or pet hairs and are one of the most durable fabrics.
If your sofa is going into an area that is only used by you, such as a bedroom or home office, fabrics such as chenille add a touch of luxury to your interiors, but require more maintenance than cotton.
FABRIC PATTERN
A patterned fabric can have a huge influence on the style of your interiors. The scale of the pattern should also match the scale of the room, smaller rooms work better with smaller scale patterns, and larger rooms with larger patterns. If you're still unsure, there are plenty of interior design books that may help you research and make a decision!
CHOOSING FABRIC FOR DINING ROOM CHAIRS
Sitting at the dining table eating dinner with your family and friends is something that we all love, but before choosing a fabric consider the main function of your dining chairs.
Materials such as leatherette make a great option for dining room chairs as it's easily cleaned, so there's no worry about spilling food or drink on it. Leatherette also comes in a wide range of colour options, meaning you're bound to find one that you like.
If you're not a fan of the leather look, then opting for a patterned material can also work, as they tend to hide stains well. Going for a neutral pattern may also be a better option should you decide to redecorate in the future, as it'll be easier to match it to the room. 
MARTINDALE RUB TEST
Another thing to consider when choosing upholstery fabrics is the Martindale rub test. Upholstery fabrics are often graded using this system that simulates the natural wear and tear of a seat cover. A fabric sample is rubbed against a standard abrasive surface to rate how well it would stand the pressure of someone sitting on it over time. The higher the Martindale unit of the fabric, the more likely it is to withstand wear and tear.
Take a look at our range of fabrics perfect for upholstery online, shop in-store at our fabric warehouse in Northamptonshire, or talk to one of our friendly team members for advice.