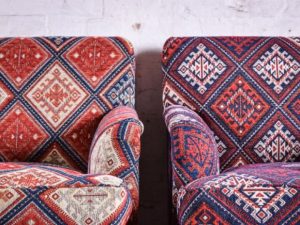 We are very excited to announce our new arrival of designer fabric from designer fabric house; Brockhall Designs.
Brockhall designs is an British fabric company that was founded by a family who began trading in fabrics in the 20th Century.
Brockhall Designs have a continuing reputation of bringing novel patterns to the fabric world.  They have individual designs inspired by different eras and places over the globe. Their fabrics are only available in exclusive fabric outlets in the United Kingdom but are shipped all round the world. We are fortunate enough to be able to supply their fabrics.
Their fabrics vary from traditional Art Deco style fabrics to rich and bold kilims. They specialise in the design and production of upholstery fabric but a lot of their fabrics are dual purpose, meaning they can be used for both curtains and upholstery.
You can buy Brockhall Designs fabrics from our online fabric shop.