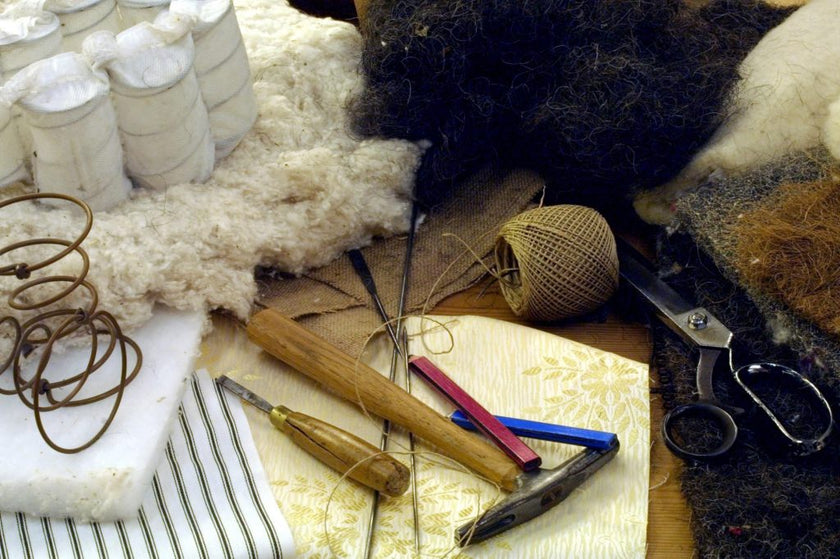 News
Beginners' Upholstery Tool Kit
As we all know, the fine art of upholstery has been around throughout history, and many upholstery tools are still the same as they have been for countless years. If you're just getting started on your upholstery journey, here are a few tools to help you along the way.

ESSENTIAL UPHOLSTERY TOOLS FOR BEGINNERS
When putting together your beginner's upholstery tool kit, be sure to include:
MAGNETIC HAMMER
For fixing your fabric in place, you'll need a precision hammer to tackle dozens of tacks and nails. What's more, a magnetic hammer head will stop you from losing any tiny tacks (and finding them later, with your foot!).
STAPLE REMOVER
When you first start upholstering it can take a while to get it exactly right. Even experts make mistakes, so simple tools for retracing your steps are great for learners. You may take the traditional hand-tacking approach; but, to simplify your upholstery projects, you'll likely use a stapler.
Always keep a staple remover handy, to pry up and remove staples that are in the wrong place. Using a precision staple remover, you should be able to remove any mistakes without damaging your fabric.
TACK LIFTER
As with removing staples, upholstery beginners will likely need to remove their fair share of tacks too! You can use a tack lifter to pry up and remove individual tacks. This simple tool is easy to use and intuitive - no instructions necessary!
Even if you don't make any mistakes, you'll need a tack lifter to remove old fabric from a piece of furniture before you reupholster.
FABRIC SCISSORS
A good pair of fabric scissors is essential to any upholstery project. Attempting to use scissors that aren't made specifically for cutting fabric can make your job ten times harder.
Choose a high-quality pair of fabric shears that will cut through fabric without snagging or tearing. Consider fabric scissors as an investment piece; a good pair should last you for many years and numerous upholstery projects.
CURVED NEEDLES
Curved needles are an essential part of an upholsterer's toolkit. They're used for slipping, sewing springs and coils to webbing and burlap, and stitching bridle ties. The curve makes them more accurate and makes it much easier to get to hard to reach places.
Curved needles come in a range of sizes. We recommend investing in some small (2.5"-3") needles and some larger (up to 5") ones, for an upholstery tool kit that can handle any sized project.
UPHOLSTERY REGULATOR
An upholstery regulator allows you to rearrange your stuffing from the outside. Similar to a heavy-gauge needle, a regulator is ideal for reaching through your fabric cover with minimal damage to the fabric itself.
OTHER USEFUL UPHOLSTERY TOOLS
Beyond the essential upholstery tools for beginners sits a whole world of accessories and possibilities! Here are some other tools that you may want to consider:
WOODEN MALLET
Wooden mallets are a lightweight alternative to magnetic hammers. Perfect for hammering tack strips into place, mallets give the power needed but have a softer face, so they won't damage any fabric.
STAPLER
Save yourself from getting sore, tired hands and use a pneumatic stapler. Staplers are lightweight, easy to use, and affordable alternatives to hand-tacking.
It's worth noting that you'll need an air compressor, pipe and fitting to work pneumatic staple guns. So you may prefer to start out with something simpler.
SEWING MACHINE
Most upholstery projects involve a fair bit of dragging and fastening fabric into place. Yet, to create extra personalised touches and professional-looking flourishes, you may need a sewing machine to hand.
With a good, durable sewing machine, you can sew your own traditional piping, using your chosen fabric and different gauges of piping cord. Or you could complete the look by sewing a simple cushion cover in matching fabric.
For more on how to make your own cushions, see our cushion-making guide.
UPHOLSTERY TIPS FOR BEGINNERS
STOCK UP ON PINS
Pins are always very helpful during sewing projects. Use pins to hold your sewing together or to mark the fabric when pattern matching.
USE UPHOLSTERY NAIL STRIPS FOR EASY EDGING
Rather than attaching dozens of individual decorative nails, a nail strip can make the job much easier. Available in different styles and lengths, these malleable strips create a decorative edge in no time.
KEEP A BALL OF BARBOUR TWINE TO HAND
Beyond its traditional purpose, twine makes a great substitute for a measuring tape. A flexible tape measure allows you to take accurate measurements around the corners of cushions, armrests and much more. If you haven't got one to hand, use a ball of upholstery twine to trace the edge of what you want to measure. Then, simply measure the length of twine against a standard measuring tape from your DIY toolbox.
Browse our range of upholstery tools for beginners, or get in touch to ask our experts for advice.
For more information about upholstery for beginners, take a look at our beginners' guide to neat upholstery edging.