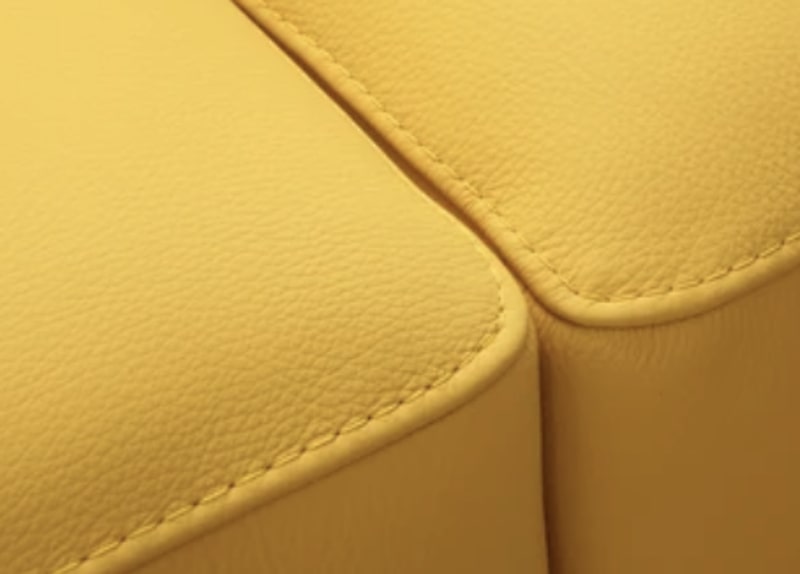 News
What Is Leatherette Faux Leather Fabric?
Fashionable, classy and practical, leather sofas continue to go from strength to strength in their popularity – but what about faux leather fabric? Will it give the same results that we'd expect from the 'real thing'?
Read on to find out more in our faux leather material guide.
LEATHERETTE VS LEATHER SEATS
Leather furniture first began to make a regular appearance in British households around the 19th Century. Though it has been used for thousands of years as armour and clothing, it's only in the last 200 or so years that it's become a staple of our living rooms.
One of the biggest draws of leather, besides its look and feel, is its breathability. As it's an organic fabric, this means it can absorb sweat, and it also helps to regulate temperatures. Your couch or seating will stay cool in the summer, and warm in the winter.
THE LEATHERETTE VEGAN ARGUMENT
However, because leather is indeed an organic material, this is also its downfall. Leather is most often made from cattle (cow and bull) hide, though it can also be made from sheep, goats and pigs. Approximately 65% of all leather is made from cattle hide, while sheep, goats and pigs make up about 13, 11 and 10% respectively.
As you can imagine, this brings about an ethical dilemma for those concerned about the treatment of animals and environmental impact. According to PETA, up to 1 billion animal hides are used for leather each year – giving consumers the same moral dilemma as meat eaters.
In tandem, the Vegan Society states that the number of vegans in the UK quadrupled between the years 2014 and 2019. This change in consumer attitudes has galvanised new 'trends' in terms of vegan food alternatives, as well as health and beauty products, and yes – even furniture.
THE INTRODUCTION OF FAUX LEATHER FABRIC
Leatherette is a synthetic material that looks and feels just like leather. Though it sounds like a pretty modern phenomenon, faux leather material has actually been around for more than 100 years now. In 1920, the US Rubber Company developed a synthetic material in place of leather as an alternative for handbags.
Some historians even argue that fake leather dates back to the 15th Century, with mentions of leatherette being used in Chinese culture. However, since then it has become mass-produced with the introduction of petroleum-based plastics.
Today, the type of faux leather we see is usually made of synthetic or natural fibres, covered with a soft PVC layer. Natural fibres are used in this day and age for their environmental benefits. For example, in the 1970s, concerns were raised about non-biodegradable plastic-based products.
IS LEATHERETTE GOOD FOR MY HOME?
The leatherette vs leather seat materials argument all comes down to your own personal beliefs, particularly with regard to the pros and cons of:
Style

Longevity

Practicality

Ethics
So, let's break each of these down.
IS FAUX LEATHER FABRIC AS STYLISH AS THE REAL THING?
Thanks to enhanced dyeing techniques, leatherette is available in a variety of colours. For example, we sell high quality leatherette in reds, blues, greys and greens – ideal for complementing any décor. Like the real thing, it's also resistant to cracking or fading, so there's no need to worry about placing leatherette in direct sunlight.
HOW LONG DOES FAUX LEATHER MATERIAL LAST?
In some cases, you may even find that leatherette can actually handle scratches better than the real thing. However, you run the risk of leatherette lasting less time – around five to 10 years, whereas real leather can last at least 10 years longer.
You may have to consider the practicalities of the leatherette – if it's in a house with adults, it may stand the test of time longer than if it's being used by kids.
IS LEATHERETTE EASY TO MAINTAIN?
Like real leather, faux leather is indeed very easy to maintain. In fact, while real leather may require polish to 'buff up', synthetic leather is easy to clean, all you have to do is wipe it!
This is ideal if you're living with little ones who are likely to spill fluids. However, be mindful that it can be a little more susceptible to cracking or tearing, especially if it's in constant use.
IS FAUX LEATHER MORE ETHICAL?
We return to that moral dilemma once again! Of course, by purchasing faux leather material, you're not contributing to a trade that directly relies on livestock. With leatherette fabric, you can enjoy the benefits of a hardwearing, practical fabric without harming animals.
On the flipside, leatherette's lack of organic material presents its own moral dilemma. We're essentially relying on non-biodegradable plastics as an alternative to animals. Some leather producers even argue that real leather is more environmentally friendly because it uses the hide from animals that were reared for meat.
If you're concerned about the ethics of faux leather versus leather material, look at the other items in your home. For example, you may wish to consider using eco-friendly wool, which is undyed to make it more sustainable. Alternatively, you could consider 'upcycling' to make your furniture last longer – we've got hundreds of tips right here on our blog.
SHOULD I CHOOSE LEATHERETTE FABRIC OVER LEATHER?
So, do you go for the 'classic' option which dates back to upper class Victorian households, or opt for a modern alternative? Before you make your decision, make sure you're thinking about who is using the seating and where it will be placed. Consider factors like:
Cost –

is this a long-term investment or will my tastes change over time?

Positioning –

will the seating be next to a window or near any other hazards such as water sources?

Users –

will it be exclusively used by adults or do we run the risk of children climbing on it or spilling substances on it?

Maintenance –

do I have the time to apply creams and polishes or am I looking for a simple wipe clean finish?

Ethics –

am I more concerned about using sustainable fabrics, animal welfare, or both?
You can get the same great style from both leather and leatherette, so once you've answered these questions, the rest is easy! For a great range of options, explore our faux leather collection online and in-store today.