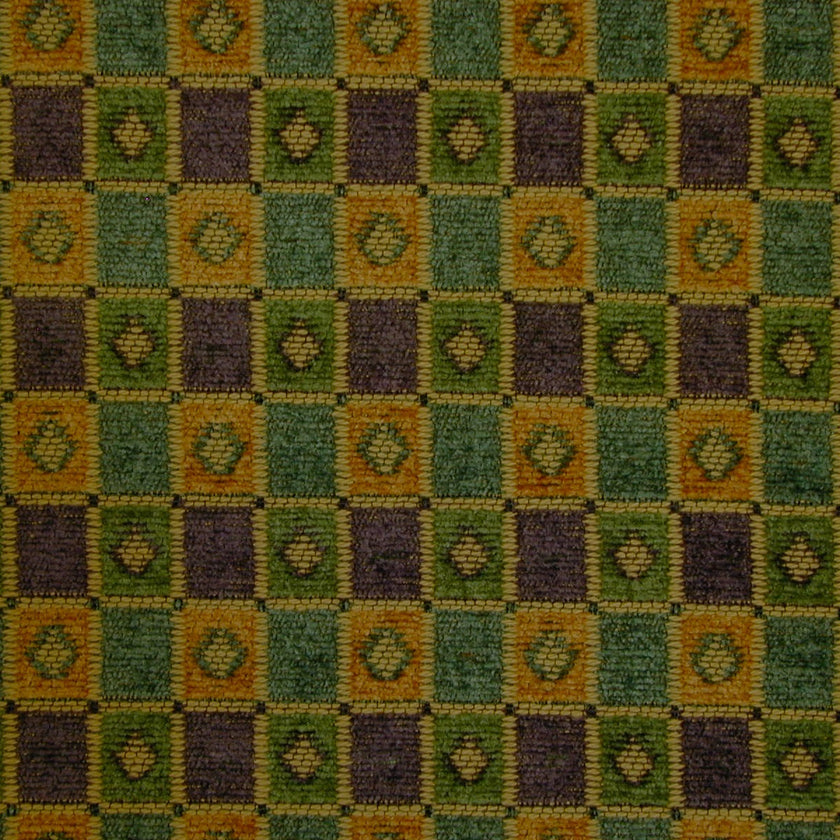 News
What Is Chenille Fabric?
Fabrics are named by either the name of the fibre with which they are woven, like wool fabric for example, the loom on which they are woven, like jacquard fabric, or by the weave construction in their manufacture. Chenille fabric gets its name by the way in which the fabric is manufactured. Chenille fabric is made by forming a tightly wound core for the yarn. Piles, which are short lengths of yarn, are wrapped around this core, causing its edges to stand on right angles from the centre of the fabric. It is this that gives chenille fabric its unique look, softness, and change of colour dependent on how light shines on the fabric from each direction. The yarn is commonly manufactured from cotton, but can also be made using acrylic, rayon and olefin.
The word 'chenille' is French for 'caterpillar'. This is an appropriate name for the fabric, as chenille is a fuzzy fabric that has a metamorphic development. Chenille type yarn is somewhat a recent fabric, only dating back to the 18th century, comparing to other yarns such as wool which dates back as far as 1500BC.
CHENILLE FABRIC HISTORY
Chenille fabric emerged between 1754 and 1895 in three different countries; France, Scotland and the United States.
In the 1780's chenille's emergence began in France. The knot stitch is the term given to any stitches that are looped around a needle. This type of stitch adds texture to a woven piece; however it is labour intensive and takes a lot of time. In replace of this timely stitch, an applique chenille fabric was introduced as a labour saving device for producing nature images, for instance grass or trees. This produced a fuzzy woollen thread mat on top of a linen fabric base. As the tufts were very soft, this chenille progressed to become popular amongst women's clothing patterns.
In the 1830's chenille fabric emerged in Scotland from a foreman named Alexander Buchanan who worked in an industrial fabric mill. He created a way of mass producing chenille fabric that he sold as fuzzy shawls. The way he made these fuzzy shawls was from tufts of coloured woollen yarn. These were then woven on a blanket fabric that was then cut into thin strips and fizzed on rollers that were heated. Buchanan's technique was developed further by another shawl manufacturer; James Templeton. Templeton refined the technique so he could machine manufacture tufted carpets, replicating the quality and appearance of hand-woven oriental carpets.
In 1895, in the United States of America, in the city of Dalton, at the age of only fifteen years Catherine Evans invented a time saving technique to creating the tufted look of candlewick embroidery; a New England version of English 17th Century tufting that Evans had read about. Evans found this technique whilst making a white-on-white bedspread for her brother and sister in law that she intended as a gift for them. She began by sewing a layer of cotton cloth onto a cotton base in a decorative pattern. The fabric was then shrunk in boiling water to keep the yarn in position, at this point the yarns fizzed like pom-poms. After finding this, bedspreads quickly became a piecework cottage industry across households in Dalton with Evans' family creating materials for women who did hand tuft work. The tufted designs were marketed as chenille.
It was Singer Sewing Machine that quickly developed in the Dalton area that really caused the change in tufting. They created machines with multiple needles that proved to be time efficient in the mass production of tufting.
Similar to Templeton's imitations of oriental carpets in Scotland, the Dalton area began to produce imitations of oriental carpets. Broadloom carpet was invented in Dalton and bedspreads, bathroom sets and robes became major textile exports from Dalton. Even now 90% of the world's wall-to-wall carpet is still produced within a thirty-mile radius of the city.
In the 1970's chenille fabric began being used for clothing. In the 1990's chenille fabric became so popular that The Chenille International Manufacturers Association (CIMA) was created to ensure the standards in production of chenille fabric were maintained to a required level.
CHENILLE FABRIC CARE
Many chenille fabrics should be dry cleaned. If hand or machine-washed, they should be machine-dried using low heat, or as a heavy textile, dried flat to avoid stretching and they should never be hung.