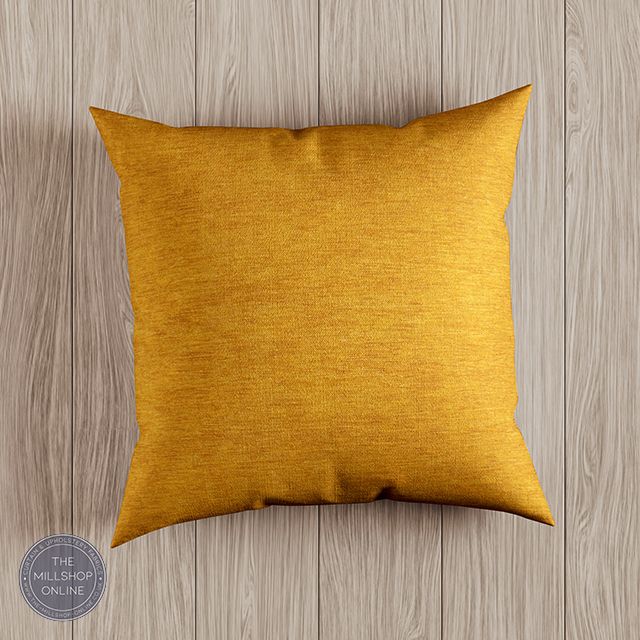 News
Using Mustard Fabric In Your Home
Synonymous with 1970s retro styles, mustard fabric has made a huge comeback in recent years. Adding personality and flair to home interiors, this warm, versatile colour trend is here to stay. 
Here's how to embrace the mustard yellow trend in your home:
MUSTARD UPHOLSTERY FABRIC
Be bold and embrace the luxurious feel and look of our eye-catching English garden opulent velvet. 
Available in two different colourways, this velvet fabric is made up a floral thistle pattern. This fabric would fit seamlessly into a country interior.
To make a statement with your upholstery, why not opt for a plain fabric instead. 
Upholster furniture in plain yellow fabric, and complete the look with patterned cushions. Blues and greys look great alongside mustard yellow, balancing the overall style for a more bohemian interior design.

If entirely mustard upholstery fabric seems a little daunting, introduce smaller hints of mustard yellow by opting for a patterned fabric. 
Choosing a predominantly grey fabric, with yellow mustard highlights, can be a gentle way to introduce colour. In this way, patterned fabrics add warmth into an otherwise monochrome interior.
Here are just a few of our favourite patterned fabrics that feature mustard yellow:
MUSTARD YELLOW CURTAIN FABRIC
Bright yellow curtains immediately bring sunshine into a room, whatever the weather. What's more, it can be far easier to hang new made-to-measure curtains than to embark on an upholstery project!
A classic pair of floor length velvet curtains in mustard yellow ooze luxury and imbue a room with a bold personality. They can be used as a colourful highlight in a dark room, for a historical, stately home atmosphere. Or, yellow curtains can add a warm colour pop in a minimalist, Scandinavian style modern interior.
For added oomph, use mustard yellow curtain fabric in a black and white room. The juxtaposition of contemporary and retro colour schemes create an undeniably artistic statement.
Remember: mustard fabric curtains needn't be plain. We stock a wide range of printed curtain fabrics in yellow. Explore our range, from chic geometric fabric prints to whimsical animal print fabric! 
To create a statement in any style room, here are a few of our top picks for mustard coloured curtains: 
Duston linen 

 - A wonderful ochre linen print fabric patterned with luscious leaf designs, available in various colourways.

Deco peacock linen - 

 An intricately printed ochre fabric enriched with grey peacocks.

Watercolour leaves ochre- A bold printed design with a leaf pattern
INCORPORATING MUSTARD FABRIC IN SMALL WAYS 
If you're not quite ready to make a bold statement in mustard, try adding smaller colour highlights to your room. Introduce yellow cotton fabric, or even a sumptuous yellow velvet, by making your own cushion covers.
Follow our simple guide to make your own cushions and choose any number of yellow fabrics for your design.
Fabric lampshades are also a great way to incorporate mustard yellow. What's more, a yellow light filter will bathe your interior in a sunny, ambient glow. Natural fabrics like lightweight linen or plain cotton offer the right level of opacity. These fabrics allow light to pass through without being blinding. 
As relatively small additions to a space, lampshades invite you to be playful with yellow fabric. Consider a whimsical floral cotton design, like the sunflower cotton print. Or choose an energetically busy pattern like the bold beach huts cotton.
FABRIC TO COORDINATE WITH MUSTARD YELLOW
You may decide against mustard yellow upholstery or curtains, but still want to add colour to your room.
Rather than buying mustard yellow fabric, you can embrace the trend with mustard wall paint instead. Doing so allows you a little more freedom with your fabric choice.
Mustard yellow walls invite deep blue fabrics, to mimic the warm tones of the yellow. In one of our favourite bedroom designs, mustard yellow provides a luxurious backdrop for patterned fabrics. A deep blue upholstered headboard and matching curtains, feature a golden yellow pattern to tie the scheme together. Whilst fabulous fabric lampshades introduce another pattern on the same blue and yellow theme. 
Mustard walls cry out for statement fabric accompaniments in deep blue tones. Some of our favourites include:
The-millshop-online Agatha cotton

 - a medium-weight cotton fabric, featuring a bold floral design on a rich blue background.

The-millshop-online Ottoman chenille - a sumptuous woven chenille fabric with a classic design. 
Explore our full range of gold and yellow fabrics online now. Or browse beyond mustard yellow fabric to discover complementary blues, greys, and patterned styles. 
Our fabric experts are happy to help you find the perfect shade of yellow for your home. Please get in touch if you'd like any guidance.