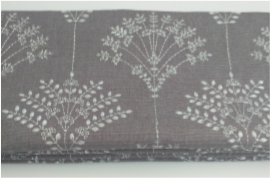 News
Types Of Roman Blinds
Roman blinds are a window treatment consisting of a flat panel of fabric with a lining on the back, which is pulled up in flat concertina pleats at the top of the window when open.
They can be fitted inside or outside the recess. There are pros and cons to either option. A blind fitted outside the window tends to make the window look more 'dressed' and can be fitted higher up so that more light can be let in.
It is also a good idea if your window is an irregular shape, or has a dado rail or tiles making it difficult to fit a blind inside the recess. However, a blind fitted inside the recess leaves space for ornaments/storage on the windowsill as well as allowing space for curtains to be fitted on the outside if required.
We offer a "stacked" or "waterfall" option on our roman blinds. The stacked option means each fold is the same size, so that all the folds are level when the blind is pulled up. The waterfall option means each fold is a little longer than the last to create a staggered effect when the blind is pulled up. Which option you go for is down to personal preference but also depends what fabric you have chosen and which style is better suited to your pattern. There is very little difference in the size of the blind when it is pulled up, all blinds whether stacked or waterfall will pull up to approximately 20 – 30cm.
A roman blind needs a lining in order to work, but the choice of lining is up to you. A standard sateen will let a bit of light through whilst giving your blind some protection from sun damage. Whereas a blackout thermal lining will keep the light out as much as possible. It's worth noting though that complete blackout isn't guaranteed as light will escape around the edges of the blind, and sometimes even through the stitching of the blind. We can also interline your blind to give it a thicker and more luxurious look, please call if you would like to discuss any options such as these which aren't available through the basic online ordering process.
Our blinds are available with or without a pelmet. The pelmet just sits on top of the blind and is held in place with Velcro. This is only suitable for blinds fitted outside the recess.
All our blinds are supplied mounted on a metal headrail with a chain for operation. You can choose the colour of the chain and whether it is on the left or right of the blind. In the past, people have tended to use wooden battens and cords to mount and operate roman blinds. There are now child safety guidelines which discourage this, and therefore all our blinds are supplied on a headrail with safety release toggles at the bottom of the blind.