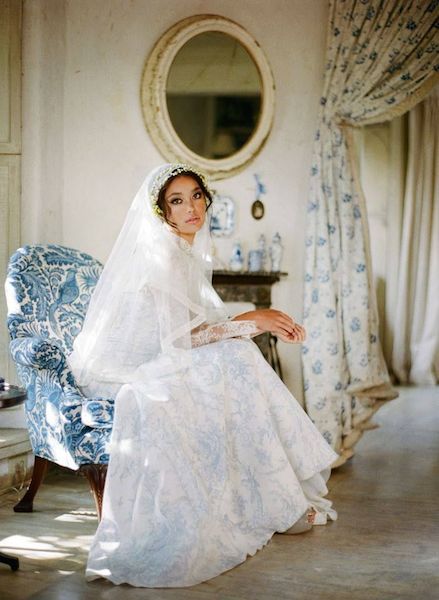 News
Toile De Jouy Fabric For Weddings
Choosing a theme for your wedding is the starting block of most weddings and one of the most important decisions that you will make for your big day. Your theme may dictate your attire, table settings, decorations, invitations and even the cake.
A toile de Jouy theme is a classic option that allows you to design fluidly as you are not stuck to just one colour choice. There are so many different options to choose from and so many interesting ways to add the design to your wedding.
You could choose to take things full scale with everything toile or you could add subtle touches of the print in the small details. Our friendly customer service team can help you with ordering your chosen toile fabric to make your day as smooth as possible.
WHAT IS TOILE DE JOUY?
'Toile de Jouy' is literally translated as 'cloth of Jouy', short for Jouy-en-Josas; a small town in France. Since its origin, toile has become better known as the actual print design rather than the fabric itself.
A traditional french toile de Jouy print features repeat pastoral scenes usually depicting the french countryside in a single colour print. You may also find animal imagery or people within the designs, this is a more contemporary take on the print.
Toile patterns can be woven or printed on different types of fabrics and different weighted fabrics including cotton fabrics, linen fabrics and tapestry fabrics. This provides versatility to what you can use the different fabrics for, such as lightweight clothing or heavyweight curtains.
DECORATING WITH TOILE FABRIC
If you're looking to keep things more understated, add touches of toile to your furniture or incorporate the print into your table decorations. Use wide pieces to tie toile fabric chair bows or opt for a larger piece to use as a table runner. Keep your table centrepieces simple to allow the print to speak for itself.
Using toile fabric for your upholstery is a great way to spruce up your interior, especially if you are hosting the event at your home or at the home of someone you know. It can really differentiate your day-to-day furniture from your wedding furniture and be a refreshing change for your guests.
TOILE COLOUR COMBINATIONS
Correctly combining the colours within your theme is an important part of creating a pleasing scene for the big day. A toile de Jouy print theme leaves endless colour pairing opportunities and can be done in lots of creative ways.
Some prints are rich in colour and have a blatant pattern and others may have a much more subtle pattern. As a single-colour print, the standard pairing for most colours will be white as this is generally the most harmonious base for this style of fabric.
BLUE AND WHITE
If you are planning a summer wedding, blue and white toile is a classic colour combination that can help to brighten up your space. This stunning pattern can even be incorporated into your wedding outfits. Consider using it for something as subtle as a toile printed bow tie or go all out with a statement worthy printed gown.
From dusty to vivid blues, this traditional colour pairing is a fail-safe choice for your wedding event interior. Our Versailles Toile Cotton Fabric is all you need to tick off your something blue!
RED AND WHITE
Another classic colour combination for toile print is red and white. While it may not be as popular of a choice for weddings, we think it is definitely worth considering. A red and white toile pairing will give you a strong base to work from as you can keep the detailing relatively simple to allow the pattern to do the work.
Our Versailles Toile Cotton Fabric in rouge is a deep shade that works well with whites, greys and even light shades of pink. If you are opting for a full-scale interior change, use our toile for curtains to really set the tone.
GREEN AND WHITE
A green and white toile combination can be quite overwhelming so make sure to choose your shade carefully. Consider lighter colours like sage to lighten up a small space or a deep emerald for larger rooms that need to be statement worthy.
Choose this pattern for smaller decorations such as serviettes and fabric placemats with a simple green fabric as the base. Adding touches of black or other dark colours can help to break up any areas where there is a risk of having too much print.
BLACK AND WHITE
For winter weddings, a black and white toile combination is a clear winner. This bold pairing can help you to build up a theme as it works best in a monochromatic environment, meaning you do not have to worry about adding additional colours.
Consider using black fabric as an aisle runner and use artificially dyed black flowers to create a wonderfully dark gothic fantasy wedding. You may also wish to use the toile print for your invitations or for party favours as another light way to establish your theme.
Whichever colour combination you choose, a toile de Jouy print theme is a timeless choice that you can always rely on.
It's time to start planning and browsing our collection of toile fabric online to create the wedding of your dreams!