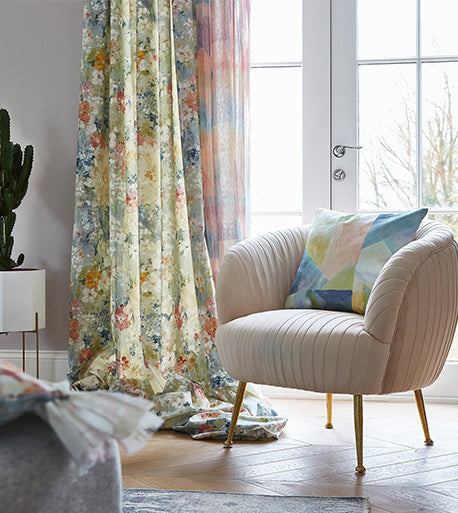 News
Stylish Ways To Update Old Curtains
As a home accessory that dates back to Egyptian times, we could be forgiven for assuming curtains aren't the most contemporary home furnishing. But are curtains out of style, or do we just need to be more creative?
Let's not forget that curtains offer much more than their aesthetic value alone. From keeping the heat in to added security, they're a cost-effective alternative that never goes out of fashion. All you need is a little imagination.
HOW TO UPDATE OLD CURTAINS
Rather than throwing away perfectly good home décor, you can add a modern-day feel to even the oldest curtains. To save money and broaden your colour palette, you can try:
Changing the length

Adding accessories

Using contrasting linings.
1. CHANGING THE LENGTH: WHERE ARE CURTAINS SUPPOSED TO FALL?
Both traditional and modern curtains conform to the iron-clad standards of interior design – as far as measurements go, that is.
The rule of thumb is to make sure the width is two times, or ideally two and a half times, the width of your window.
Once you're settled on width, you need to decide how the length will serve the purpose of the room:
Floating

above the floor: this is probably the most relaxed of all three modern curtain styles, giving you leeway with those fabric scissors. Ideally, this method should have them 'floating' one inch above the floor.
Puddling

on the floor: this style uses excess fabric to 'puddle out', adding a dramatic tone to contemporary rooms. This is ideal for upmarket fabrics such as

velvet

or

linen curtains

, putting the material in the spotlight.
Kissing

the floor: this is probably the most difficult, as the curtains need to 'kiss' the surface – that is, land exactly in line with the floor.
WHAT SHOULD I MATCH MY CURTAINS WITH?
While you can turn to accessories for modern curtain ideas, you shouldn't discount the role of the room. For example, is your dining room a sprawling, formal setting for entertaining? Or are you choosing curtains for more of a practical room, such as a study or a kitchen?
Formal, more traditional settings lend themselves to the kissing style. You can give bedrooms an elegant touch with puddling, perfect for adding an insulative layer on cold nights. For more practical, everyday use, curtains touching the windowsill (the apron) are perfect.
HOW TO LENGTHEN CURTAINS
Longer drapes can add an instant illusion of size to smaller rooms. Before you get scissor-happy on the kitchen hangings, think about how you could lengthen some styles, too. One way to update old curtains is to add a contrasting-coloured fabric to the bottom. For example, if your current white drapes only touch the windowsill, let them puddle by sewing on black fabric.
A sewing machine will make this easier but it's not essential. You can use our home upholstery starter kit guide to see which tools work best.
2. ADDING ACCESSORIES
Just like that contrasting trim, you can add accessories to give old drapes an instant lift. If you're not quite ready to get the sewing machine out, you can start with some modern curtain holdbacks.
ARE CURTAIN TIE BACKS OLD FASHIONED?
Again, with tie backs originating in the 16th Century, there's the assumption that this handy accessory is dated. In reality, tie backs breathe a new lease of life into homes with natural light. They're also ideal for houses with little ones running around, keeping them safe from trip hazards with minimal effort.
To avoid the 'ancient' look, switch out your tie backs with some of these instead:
Chrome or metallic holdbacks work with all colours and add a subtle modern touch

Fabric or

woven rope tiebacks

are a break from the traditional and offer more flexibility

Brightly coloured holdbacks add a pop of colour to faded or dull shades.
Browse our range of curtain tiebacks for inspiration.
OTHER CURTAIN ACCESSORIES YOU CAN TRY
If you're feeling a little bolder, why not add a trim? This does not need to be as bold as lengthening the drapes – it could be a finishing touch. For example, a single ribbon down the inside lining with contrasting colours will help them stand out.
Got green fingers? Try attaching indoor hanging baskets to your curtain rod for a biophilic effect. Houseplants have been proven to offer health-boosting benefits, so not only do they look the part; they play the part, too. Just make sure they're not hanging near any electrical sockets.
If you love crafting, you could also try experimenting with homemade tassels or macramé. Follow the instructions to knot yourself a masterpiece.
3. USING CONTRASTING LININGS
To really complement your colour palette, go beyond the trim and add a contrasting lining. Opposite colours such as purple and yellow, blue and orange, or black and white add glamour to vibrant rooms.
Our range of curtain linings come in neutral colours and are designed to block out light and maintain heat within your home. But there's nothing stopping you from adding a third layer of fabric to the back of your curtains, to benefit from both insulated lining and a fabulous colour contrast.
WHAT IS THE BEST COLOUR FOR CURTAINS?
Remember – they should complement the rest of the room. The best colour for curtains is that which contrasts with the walls. Use more vivid shades against lighter, magnolia walls, or tone down feature walls with a neutral coloured creamy finish. You can even use those linings to show off both sides of your colour spectrum.
HOW TO MAKE NET CURTAINS LOOK MODERN
Let's not forget those other inner curtains – nets. You can bring these into the 21st Century by hanging them above the window frame, giving the illusion of a larger room and higher ceiling. Likewise, sometimes it doesn't need a drastic change – a simple chrome railing makes all the difference.
UPCYCLE WITH THE MILLSHOP
Modernising your curtains doesn't need to be expensive. With some accessories and a few bright ideas, you can change the look of a room. For more options, head over to our blog or check out our range of curtain fabrics.
Alternatively, get in touch with our experts to discuss a brand new pair of made to measure curtains, blinds or shades.