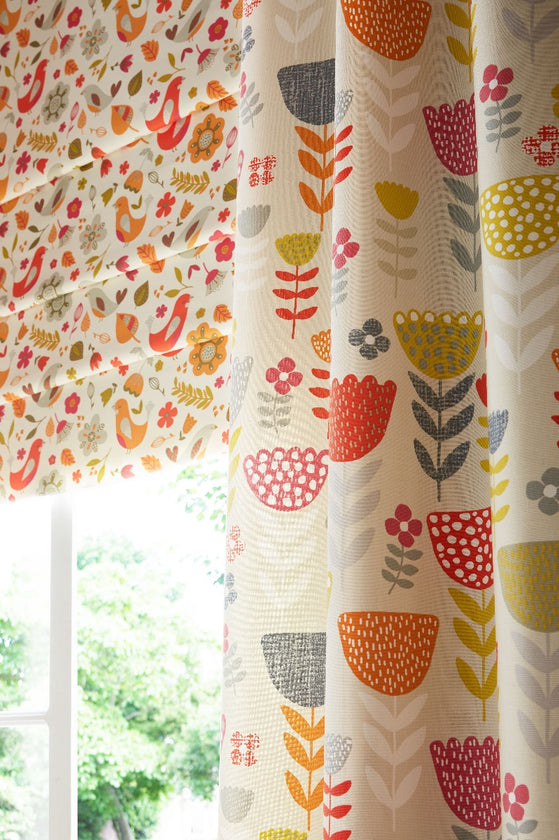 If you need help with how to measure for your new curtains or how to place your order online then scroll down to the bottom of this post for more information.
Not sure what fabric to go for? Here is some inspiration of different fabrics, textures and styles to make your home colourful and cosy this winter.
WHY CHOOSE MADE TO MEASURE CURTAINS & BLINDS
Made to measure curtains and blinds are the perfect choice of window treatment for a number of reasons.
1. Variation of choice - Ready made curtains come in many different colours and designs but often don't give the variation of choice as much as fabric that is sold by the metre. If you find a curtain fabric that you completely love, then having it made into curtains or blinds is no problem.
2. Tailor your curtains to fit your windows and doors perfectly - Ready made curtains and blinds are only designed to fit certain sized windows and doors. Although some can be adjusted, this is not always possible and so a perfect solution is choosing made to measure curtains and blinds where you can tailor your curtains to fit your windows and doors perfectly to the length and fullness you'd like.
3. Unique style, fullness, length and heading type - If you want a unique style, fullness or length then made to measure curtains are the way forward. They allow you to choose your drop to exactly where you want it, be it just under the sill, to the radiator, or to the floor. They also allow you to choose how full your curtains are. We also offer three styles of headings on our made to measure curtains; pencil pleat, pinch pleat, or eyelet. This allows you to choose a heading that works well with your room and style of fabric.
WHAT TO CONSIDER
Part of the beauty of made to measure curtains is they can be tailored to look how you would like which means there are various options you need to consider. When you order online we give you the following options to create your custom curtains to how you would like. 
Type Of Heading - We have the options of three different headings of curtains; pencil pleat, pinch pleat or eyelet. 
Type Of Lining And Interlining - All our curtains and blinds are lined. This helps protect the fabric from sunlight damage and gives the curtains extra body. We offer blackout and thermal lining or 100% cotton sateen.
Hand Or Machine Finished - Machine finished curtains have blind stitched hems and the fabric is machine stitched to the lining at the sides. Our hand stitched curtains are completely hand stitched. On velvet fabrics we only give the option of hand stitching as the fabric is best sewn by hand.
Need help with how to order or how to measure? Click the links below to view our step by step guides.