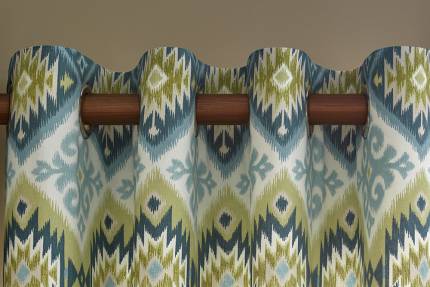 News
How To Clean Your Curtains - Curtain Cleaning Tips For Year-Round Shine
Whether it's a spring clean or part of a larger renovation project, curtain cleaning is something that's often overlooked by homeowners. It may not seem like it, but our drapes can be a hotbed for dirt and bacteria – they gather dust, pet hair, children's grubby hands and much more. If you smoke in your home, you may even notice staining over long periods of time.
Revamping your curtains will help bring their colour back to life, saving you money on new items and brightening up your home. There are a number of ways you can clean curtains - the best method to use will depend on what curtains you have and what fabrics they are made from.
For a cost-effective spring clean, try our guide to curtains and blinds cleaning.

HOW TO CLEAN CURTAINS
For optimum cleanliness, you should aim to clean your curtains once every six months – or more often if you smoke. (If there are 'creative' little ones in the house, you might even need to up this to four times a year!)
To get the best out of your curtain cleaning routine, you'll need a vacuum cleaner with smaller attachments, and ideally, access to a dry cleaner if you can. If a professional clean is out of reach, fret not – there are ways of cleaning net curtains and bulkier materials right in your home.
VACUUMING YOUR CURTAINS
Other than your spring clean or seasonal freshen up, use your vacuum cleaner more regularly as part of your curtain cleaning routine. (This way, curtain cleaning will become as commonplace as a quick hoover round the house!) Pop your vacuum onto the lowest suction setting and affix a small brush attachment. This will help to clear the dust away from your curtains and avoid damage.
Don't try to use a vacuum cleaner on net curtains – their frail nature will likely lead to damage! Instead, beat any dust away with a soft brush.
CURTAIN CLEANING BY WEIGHT
The best curtain cleaning routine will depend on the weight of your drapes. Obviously, net curtains do not lend themselves to tougher washing methods, but if you're starting with larger curtains, you can use a machine to help.
Always check the cleaning instructions on the curtain label. Generally speaking, lightweight fabrics can go on a gentler setting, but check with the manufacturer first. Note that lightweight does not mean the same as delicate.
If your curtains are made from silk, fabric or another delicate fabric, you should take them to a dry cleaner or hand wash instead. Avoid vigorous rubbing as this may risk colour fading or even shrinking of the fabric. Try soaking them in a gentle detergent but always check the label to make sure it can be used with softer fabrics.
CLEANING HEAVIER CURTAINS
If you've got a particularly heavy pair of curtains, sometimes it's best to avoid the washing machine altogether. This is not so much to do with the curtain cleaning process but the drying. These are likely to take hours to dry, which could put your drapes at risk of a damp smell.
DRYING CURTAINS
Ideally, you should let curtains dry naturally outside on a line. Hang them in their natural position and use a prop to avoid the risk of touching the floor and collecting dirt. Never put curtains in the dryer – this may risk shrinking the fabric or even damaging it.
If you are drying outdoors naturally, remember to consider sun damage, too. Ideally, you should pick a blustery day without strong sunlight. Hang your curtains or roman blinds to dry outside of the strongest sunlight hours (between 11 and 3) and try to position your line away from direct sunlight. This will help to avoid fading of the fabric in the long term.
HOW TO CLEAN NET CURTAINS
If you're short on time, you can put net curtains in the washing machine. Always remember to check the label and use the kindest setting.
Ideally, you should hand wash your net curtains. Take them down carefully and make sure you don't snag the delicate embroidery on any loose curtain hooks.
Use a pre-treatment to treat any stains – consider a gentle stain remover only on the affected area. You could test a small area first to make sure it doesn't damage the fabric. Do not rub the curtains together!
Soak them in a bowl of warm soapy water – no more than body temperature. After 10 to 15 minutes, massage away any dirt (again: don't scrub vigorously!) and be careful on any stains. Rinse the curtains until the water runs clear to avoid the risk of dirty water stains.
To dry your net curtains, don't wring them out. Instead, wrap them in a soft towel to remove any excess moisture, then hang them in the same way you would your larger curtains – ideally, outside on a line.
CLEANING BLINDS
The same principles apply to blinds (fabric ones, of course!). Soak them in warm water with ordinary soap. You may have to leave these to soak for a little longer as they can be notorious for collecting excess dirt and dust.
When they're dry, dust them off with a regular household duster and gently slot them back into place.

GENERAL CARE FOR YOUR CURTAINS
Want your drapes to stand the test of time? Keep these general housekeeping tips in mind.
Protect your drapes from sun damage by using lining or interlining. This may also help with the thermal insulation of your home – which results in lower energy costs!
Swap curtains out. You can try alternating designs seasonally to protect them from sun damage. This is particularly important if your windows are south facing, where they are most likely to face the sun.
Don't iron your curtains. Allow them to hang naturally, outside if possible.
Keep them out of reach of children. In areas such as children's bedrooms or playrooms, try to use a style that hangs down to the windowsill rather than the floor. This prevents trip hazards and also protects drapes from grubby hands!
If you're unsure of the best way to clean your curtains, or how to choose a curtain cleaning service, speak to our team of experts who can point you in the right direction.
AND IF IT'S TIME FOR AN UPGRADE…
Perhaps you've got a new colour scheme or your curtains have had a good innings. Experiment with new fabrics or check out our tips on how to refresh old curtains. With creativity and the right tools, the possibilities are endless!