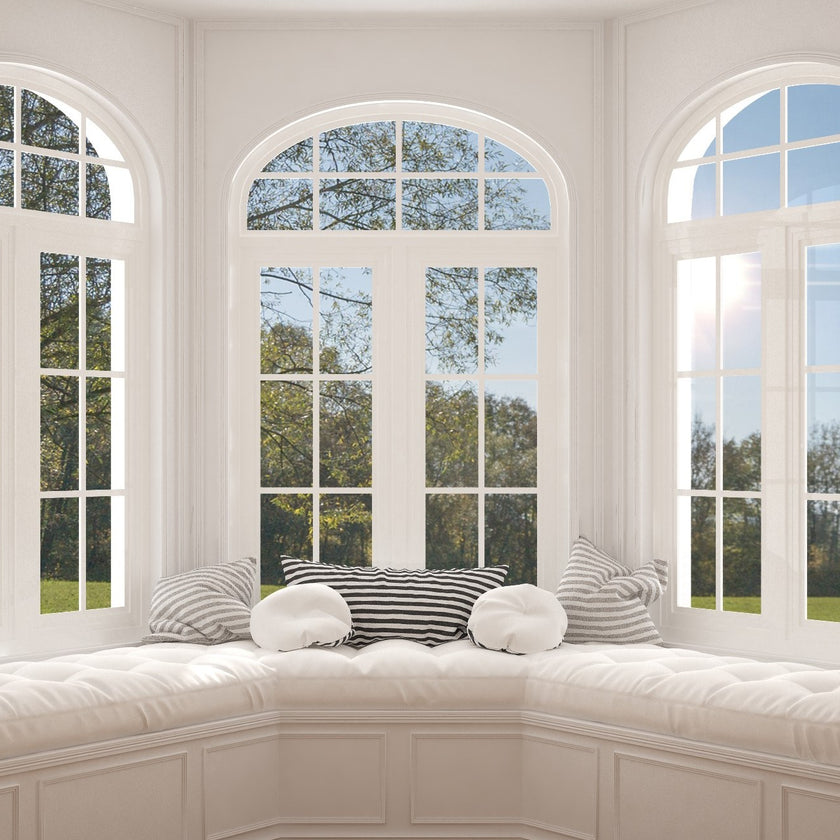 News
How do I measure a bay window for curtains?
If you are thinking of using a bespoke made to measure service for your curtains or making your own for a bay window you need to consider some things before you start.  This guide ensures you get the right measurements of your bay window to create the perfect window dressing.
In this article we explain different types of curtain poles and tracks and how they are used and fitted.  We will show you how and where to measure to be able to order your curtains and how to calculate your curtain fabric from these measurements if you are making your own. 
We would always strongly recommend having your chosen pole or track fitted before you consider ordering a made to measure curtain or buying fabric. 
Tools you will need for the measuring job:
Sturdy pair of steps.
Steel type tape measure as this type will not stretch and will stay ridged whilst you are measuring for straight lines. Soft tape measure or string for measuring curves.
Protractor to measure the angles.
Pencil.
Notepad.
The first thing that we need to assess is:
Do I need to fit a curtain track or pole before I consider curtains?
Have I got a curtain track or pole already fitted and I am ready to measure for my curtains?
Let's look at fitting a curtain track or pole.
Your bay window may be curved or angled.  If it is angled, it may have an easy 3 panels or a bit more complex with 5 panels to consider.
Your options on Bay Track and Poles are:
Curved curtain rod or track
Angled curtain rod, track, or pole
Wave Curtain Track
Whilst deciding which option you would like to fit at your bay window you may have questions such as:
Should I use Curtain Poles or Curtain Tracks at my bay window?
This really depends on the shape of your bay, your budget, the style of your home and the fabric weight and type of curtain heading you want to hang.
Tracks are less visible than curtain poles, blend into the room better and can be easily bent to follow the shape of the bay window.
Curtain poles can add to the overall style of your window and create a bolder statement.  They can carry more fabric and be angled and bent using different types of corner connectors. Poles are suitable for a heavier weight curtain. The choice is yours. 
How do I measure for and fit a curtain pole or track into an angled bay window?
When measuring for this type of angled bay you must remember to measure each panel section separately, then add these measurements together to get your total width. If the space allows, add 30-60cm to this total measurement for overhang of the curtains so they do not block all the light from your window.
How do I measure for and fit a track in a curved bay?
Measure the curve of the bay from where you want the track to start and finish using a soft tape measure. Alternatively run a piece of string from where you want the track to start and finish and then measure this piece of string to get your track width.  If the space allows again add 30cm - 60cm to this total measurement.
How do I measure for a curved curtain rod?
A curved curtain rod is quite specialised in that this would need to be handmade for your window to ensure it follows the exact curve of the bay.  The person who is going to make this will more than likely come and measure up to ensure the measurements are correct.  If you are measuring yourself and sending the measurements to the maker, then you would need to consider whether there is room for finials to be at the end of the pole or if the curved bay is such that with ornate architrave the ends will hook onto a bracket at either end. 
Simply measure from one side of the wall to the other, this measurement is A to B.  Then with a taut piece of string held at A to B measure from the taut string to the middle of the window (the deepest point) this measurement is C to D.  These are the 2 measurements that your maker will need for your curved curtain rod.  See Diagram below.
Can I buy a curtain pole that bends?
The simple answer is yes, you can buy a bendable corner joint with either end fitting inside the straight curtain pole. But before you fit it you need to bend by hand the angle on the corner joint.  You will see a series of small evenly spaced slits in the corner joint and as this is gently bent towards the open slits it will create a smooth bend.  You can also buy corner pieces or knuckles that open to your desired angle. 
See picture below for how to bend a bendable corner joint.
Can I buy adjustable bay window curtain poles?
You can purchase adjustable curtain poles so that you can adjust the length instead of having to cut the pole, but these would not be advisable on a bay window.  One of the poles would be wider than the other as the smaller pole slides inside the larger one.  This would cause the curtain rings to catch at each point and not run smoothly over the pole.  For the simple task of cutting a curtain pole to size it would mean that the curtains would glide around the bay window effortlessly.
Can I buy a wooden curtain pole for a bay window?
Metal or wooden curtain poles can both be purchased for a bay window.  The corner joints of a metal pole can be bent as we have shown above but for a wooden bay curtain pole you would need to use a metal elbow connector to create the angled bends at each angle along the pole.
Can I buy curtain poles for eyelet curtains in a bay window?
Yes, eyelet curtains can successfully be your curtain choice on a bay window.  You need to ensure that you have room for the stand up on an eyelet curtain which is the fabric that sits above your eyelet ring over the pole, this is usually approx. 3cm. 
Eyelet curtains look neat and uncluttered, and you just need to position your brackets in a certain way and ensure you choose a curtain pole strong and sturdy enough to match your curtain weight.  Choose an eyelet bay window curtain pole which allows you to bend the corners into the required angle.  You will position a middle bracket and 2 brackets at the ends of the curtain pole so 5 brackets in total.  This spacing together with the design of the brackets and the serrated corner bend means that no brackets are needed to support the corners therefore the curtain will easily pull around the bends. 
You can also ceiling fix an eyelet curtain pole with ceiling fix brackets.  We would always advise choosing a metal curtain pole as the eyelet rings are metal and this would ensure that they glide smoothly along the pole.
Can I use a wave curtain track at a bay window?
Yes, a wave curtain track can be easily bent around a bay window and gives a neat, uncluttered look to a bay window.
How far should curtain tracks and poles go past the window?
It is recommended on a normal window that you should purchase a track or pole between 30cm – 60cm wider than your window so allowing 15cm – 30cm overhang either side.  Of course, you would need to assess the position of the window in question and on a bay window it will be determined by how much room you have either side.  If you have architrave, it may prevent you extending the pole much more past the window and if you haven't then you may only have a certain amount of wall that a curtain pole can be placed on.  If you are extending the pole around the sides of the bay on a return, then again use this overhang amount to add to your total width.
How far apart should curtain track brackets be?
Ideally you should place your curtain track brackets approx. 40cm apart and no further than 10cm in at either end.  This will ensure that the weight of your curtain is evenly distributed along the length of the track.
How to ceiling fix a bay window curtain pole?
You may need to consider a ceiling fix for your bay window curtain pole if you do not have room to fix to the wall above the window frame.  If there is 15cm or more then you can fix the curtain pole using a wall bracket. If you have less than 15cm then you'll need to use a ceiling bracket as it will be too tight for a wall bracket.
This is also the case if the bay is in a recess, so you want the track to follow the curve or angles of the bay window.  You would need to ensure that you have ceiling or top fix brackets with your curtain pole.  The next thing to assess is if your ceiling recess is plasterboard.  If so, you would need to place a wooden baton and secure into the wood joists of the recess to give a secure anchor for the ceiling brackets to fix into and to ensure the weight of the curtain pole and curtains do not pull out the screws.  Alternatively, you can use plasterboard fixings or hollow drywall anchor fixings directly into your plasterboard for a more secure fixing although we would always advise the wooden baton method for strength.
I am ready to choose and measure for my curtains.
Now that you have the information required for choosing and fitting a track or curtain pole at your bay window, we have arrived at the interesting part of considering ideas for curtains for bay windows.  What type of heading would look best for your interior style and of course the type of fabrics and patterns that you could choose along with, how do you measure for your curtains! 
How do I measure a curved curtain track?
To measure the width of the track we would always recommend a soft tape measure for a curved curtain track.  Starting at one end of the track run the curtain tape all the way along the curve of the track until you reach the other end.  This is then your track width.  For the drop of your curtains, you would need to use a rigid tape measure and measure from the top of the track down to your desired finished length.
How to measure a square bay window for curtains?
Using a rigid tape measure, measure each section of track or pole at your square bay window, with a track measure from each end of the track and with a curtain pole take the measurement from the inside edge of the finial where the curtains will sit.  Add these three measurements together and this will give your total width. To get your drop measurement on a track measure from the top of the track to the finished length and on a pole measure from the bottom of each curtain ring to your finished drop, this is then your finished drop measurement.
Can I use eyelet curtains on a bay window pole?
Yes, eyelet curtains can be used successfully on a bay window. Once you have your correct eyelet pole fitted then you can take your measurements for your curtains. For the width, measure the total width of the pole between the finials.  For the drop, measure from the top of the pole to the desired finished length.  This is the measurement you would give to a curtain maker.  If you are making the curtains yourself, you would always need to add 3cm for the stand up on the finished drop.
How do I hang curtains on a curved window or a square bay window?
Depending on whether you are hanging you curtains on a curtain track, or a pole would determine how you hang them.
On a curved or square bay window curtain track you would first place your plastic or metal hooks (metal hooks are stronger) in one of the pockets on the back of the curtains in the heading tape, which pocket you choose would be determined by how high over the track you want to place your curtain.  Then these hooks are hooked into the small hole underneath the plastic glider which is attached to the track.  Make sure each end of the track has an end stopper which makes sure that the curtains do not fall off the end of the track.
If you are hanging your curtains onto a pole, then you will have rings spaced along the pole. Again, placing your hooks into the top of the heading tape pockets, place these hooks under each curtain ring in the small eye making sure that the last curtain ring is between the end bracket and finial so that it keeps the end of the curtain in place while they are drawn.
Ideas for bay window curtains and how to dress bay windows.
Bay windows are a stunning feature in any home and windows dressed in the right way can create a dramatic statement to you interior.
From plush luxurious curtains draped onto ornate curtain poles with dramatic finials pooled in gathers onto the floor and swept back with stylish tie backs to simple modern uncluttered eyelet curtains neatly tucked back onto a simple ball finial pole to allow as much light into the room as possible.
You can dress your window with a pair of curtains or if your bay window is very large you may want to place 4 curtains overall with a pair covering the middle windowpane and a pair covering the outside windowpanes.
A heavy fabric like a Chenille or a Velvet can look stunning at a bay window or maybe opt for a lighter fabric with a natural linen or printed cotton.  The combinations are endless and at The Millshop Online we are always happy to advise and recommend a suitable fabric whether we are making them for you, or you are making them yourself.  Linings and interlinings are also an important factor in your curtain choice, with blackout thermal linings being a great option to insulate and reduce light and plush interlinings giving your curtain a luxurious look.