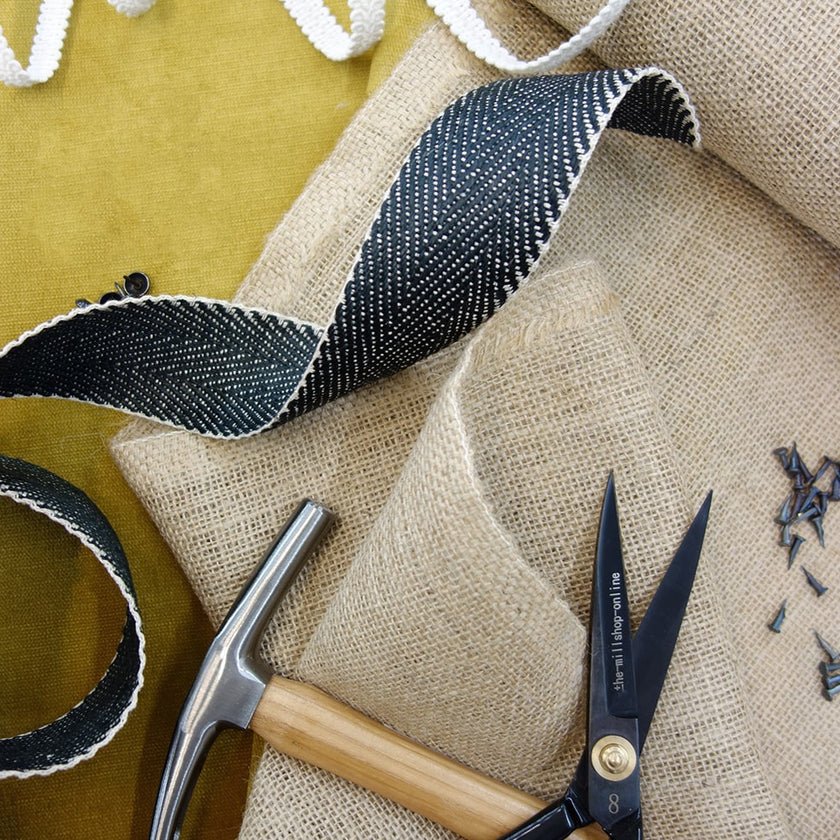 News
From A To Zipper: A-Z Of Upholstery Supplies
Spring is upon us and we've all set our sights on new projects. Is it time to start those creative tasks you've been putting off? Liven up your living space by giving your furniture a new lease of life.
Whether you're a seasoned upholstery enthusiast seeking inspiration, or a newcomer looking to stock up on upholstery essentials, we've got you covered. You'll find it all in our A-Z guide of upholstery supplies.

UPHOLSTERY ESSENTIALS (AND MORE!)
A IS FOR APRON
There's no real creativity without getting your hands dirty! To protect yourself from the inevitable dust, dirt and paint, make sure you invest in a heavy-duty apron.
B IS FOR BOOKS
It's also for blogs, Barbour twine, and braiding. To get started on those fiddly techniques, you may need to consult a few books or read our blog for inspiration – then you'll be ready to tie those springs.
C IS FOR CLAW TOOL
It's tempting to get a bit tack and staple-happy when upholstering furniture, but it doesn't always go according to plan! Claw tools like tack lifters are an essential part of your upholstery tools arsenal to rectify mistakes.
D IS FOR DUST MASK
Sanding and clapping out old cushions can be a menace for dust. Keep your airways clear with a dust mask when working with cushion stuffing or antique pieces of furniture. You may also consider a respirator if you're using strong chemicals like paint strippers.
E IS FOR ELECTRIC TURKEY CARVER
Yes, you read that right! If you're cutting upholstery foam, you can save money on a foam cutter by using an item you may already have in your kitchen instead. Electric carving knives are great for precision cutting and shaping.
Learn more about how to cut upholstery foam in our comprehensive guide.
F IS FOR FABRIC SCISSORS
Without a doubt the most important addition to upholstery accessories, fabric scissors ensure razor-sharp cuts to perfect your desired outlines. Investing in a good pair of scissors is essential for quality upholstery finishes. Scrimp on precision at your peril!
G IS FOR GLUE GUN
Before you pull out the staple gun, you may need to hold your piping in place with hot glue. Remember to exercise caution with heated tools.
H IS FOR HAMMER
Long time upholsterers know that upholstery projects often call for more hammers than even a professional tradesperson owns! To apply tacks, you can use a tack hammer, which features a small magnetic head to keep tacks in place. Heavy-duty tasks call for a rubber mallet, as outlined below.
I IS FOR INSPO
You know that chair needs an uplift, but what exactly should you have in mind? Look no further than our gorgeous fabric brands for a little design inspiration.
J IS FOR JUTE WEBBING
A gorgeous design starts with a strong foundation. Choose from a selection of hardy jute hessian fabrics to reinforce your furniture's structure.
K IS FOR KNIVES
Kitchen knives, utility knives, even butter knives – we need a whole dining set to get the job done!
Butter knives can be used to tuck fabric into folds, while electric kitchen knives are also a great alternative to foam cutters. Want to sharpen your chalk to make your mark? Reach for a trusty utility knife.
L IS FOR L-SHAPED MARKING SQUARE
Want to see perfect perpendicular corners on your chair? L-shaped marking squares are one of those often overlooked upholstery essentials that enable a professional finish.
What's more, most marking squares are also on the heavy side, so they can help to weigh down fabric while you're getting to work.
(If you haven't got an L-shaped square, follow our simple steps to achieve neat upholstery edges.)
M IS FOR MALLET
We hasten to add that this should be a rubber mallet – nothing scary! You can use your rubber mallet to knock wood frames apart without damaging your furniture.
N IS FOR NEEDLE-NOSED PLIERS
Is there anything more frustrating than trying to pull out broken staples? Make light work of it with needle-nosed pliers.
N is also, of course, for needles: the original sewing and upholstery tool. Beyond familiar buttoning needles, you can use curved needles to sew decking to chairs.
O IS FOR OLD FABRICS
You might have spotted our post on how to liven up old curtains. Don't forget that, when it comes to upholstery accessories, it doesn't always have to be brand new.
Dig out your old fabrics, from cushions to curtains, and experiment with reviving their designs. Alternatively, explore our range of fabric roll ends to find an overlooked pattern from season's past.
P IS FOR PNEUMATIC DRILL
(We'll forgive the phonetics, as we've covered pliers under N!)
A handy cordless drill will see off any pesky screws and help you rebuild your dream furniture. A set of 15 to 18 drill bits should do it. It's time to raid the garden shed.
For a decorative finishing touch to your upholstery project, swap P for piping cord.
Q IS FOR QUALITY
While this isn't one you can just pop on your shopping list, quality materials are essential for a long-lasting upholstery project. Using the right materials will make your furniture last longer, plus it will be easier to clean.
You've invested in the upholstery tools – now make sure you invest in quality fabrics.
R IS FOR RULER
Don't risk being caught short! An acrylic ruler will help you to measure down to the very last millimetre. An acrylic ruler features measurements on all four sides, helping to determine patterns and mark boxing strips or cushion plates.
S IS FOR SCREWDRIVER, SHEARS, SEWING SCISSORS…
From staple removers to specialised scissors, there are a whole lot of Ss within any range of upholstery equipment & supplies. Most of these tools relate to removing old fittings - think side cutters and staple removers; you'll need these whenever you kick off a new project.
T IS FOR TAPE MEASURE
Beyond a trusty ruler, you'll need a soft tape measure to help make your way around the soft contours of awkwardly shaped cushions and armrests. (Check out our Beginners' Upholstery Tool Kit list for a top tip on a makeshift tape measure alternative!)
U IS FOR UTILITY GLOVES
You might just need an entire dressing up box for your upholstery supplies! Utility gloves are perfect if you want to look after your hands while doing labour-intensive work such as stripping or moving heavier furniture. You'll thank your gloves when you're not removing the blisters.
V IS FOR VELVET
Velvet is the ultimate luxury fabric that will elevate your furniture! Contrary to popular belief, Velvet doesn't have to be a block colour – it can come in print patterns, such as this Multiyork design. Have a browse and see what matches your current décor.
W IS FOR WEBBING STRETCHER
Remember that jute we mentioned above? Stretch it out to the perfect size with a webbing stretcher. These essential upholstery tools use spikes to help you hold the fabric in place. Remember – you only need one of these if your webbing is non-elastic.
X IS FOR XPERIMENT
We may have been a little naughty with this one, but it's all in the spirit of getting creative. Unleash your bold side and experiment with these five super easy upholstery DIY projects.
Y IS FOR YARDSTICK
For larger measurements, or just something a little more traditional, you can't go wrong with a yardstick. Try adding both a yardstick and an acrylic ruler to your collection of upholstery equipment supplies.
Z IS FOR ZIPPER
Add the finishing touches to those cushions with a handy zipper, ideal for easy cleaning. We've got a range of zip pulls and railway stripes designed to fit your measurements.
UPHOLSTERY SUPPLIES: AS EASY AS ABC
There you have it – your complete guide to the best upholstery supplies. Start making room in your shed or sewing cupboard now and bring your dream to life!
Explore our range of upholstery supplies online or visit us in store, where we'll guide you through the essential tools for your project.