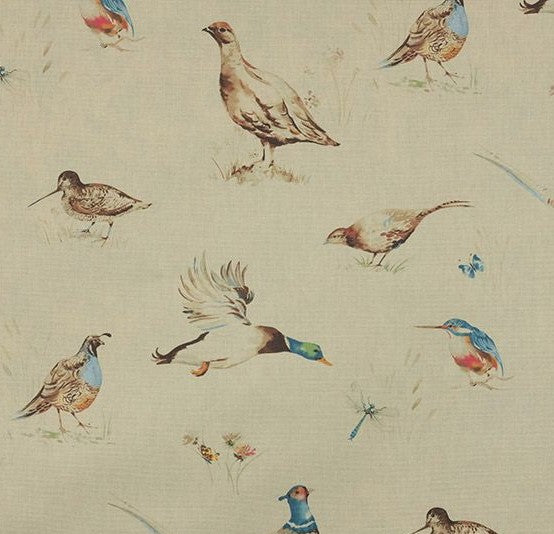 News
Incorporating Country Fabrics Into Your Interior
The English countryside holds a special place in the heart of English culture and life. This means that people often want to recreate its beauty and cosiness in their interior schemes, whether they live in the countryside or not. 
To find out how to incorporate rustic country fabrics into your design scheme, carry on reading! 
DESIGNING COUNTRY LINENS AND INTERIORS 
Your choice of upholstery fabric can transform your room, especially when it comes to your soft furnishings. There are a whole range of countryside fabrics available, and choosing how to style them can be a difficult task. 
There are a few tips and tricks when choosing a country theme for your interiors:
Don't be afraid to mix patterns, textures and colour tones

Don't scrimp on the cushions for that cosy, romantic feel

Reupholster old furniture instead of buying new for that authentic vibe
COUNTRY FABRIC PRINTS FOR CUSHIONS 
Fabrics such as cottons, linens and wool are your best friend when it comes to crafting a country vibe. 
You want to keep your eye out for fabrics that feature animals and floral designs inspired by the Great British Outdoors, along with your typical checked and striped prints.
Our Country pheasant printed cotton depicting pheasants in a country styled design. This intricate design, on 100% cotton fabric features the best of both worlds. It includes classic British animals such as ducks and pheasants, along with wildlife .
COUNTRY PRINT CURTAINS
When choosing a style of fabric for your curtains, make use of the patterns available! A modern country home should strike a balance between simple designs and playful patterns. 
The perfect way to do this is to use a neutral, but exciting fabric for your curtains.
This wild flowers linen makes the perfect material for your window dressings. 
It features a colourful floral pattern, without being overwhelming due to the neutral background. Create full length curtains using this fabric with our made to measure service.
To really set the room off with that country vibe, use a neutral coloured fabric to create a roman blind, playing with different textures and layers.
If you're lucky enough to have French doors within your home, creating floor length curtains in a country check makes a lovely feature. You can pick out accessories for the rest of the room that match the colours to create a cohesive scheme.
Top Tip: We recommend choosing a wooden curtain pole for another country accent!
RUSTIC FABRIC FOR CHAIRS 
Creating the perfect country style chair is easy to do with our range of country fabrics. Choose a checked print to upholster your old chair for that classic, country feel. 
Match the colours in the checked pattern with fabrics of the same colour and create cushions, further extending your scheme. 
Soft furnishings don't tend to be a priority when designing the kitchen in a country style. However, we feel that they can really lift a scheme and add character.
For seats in the kitchen, use tartan or striped fabrics to upholster the seats around your dining table. This will create a welcoming place for your friends and family to congregate around. 
For more information and expert advice, please don't hesitate to contact us. Together, we can create that gorgeous country scheme that you're after!