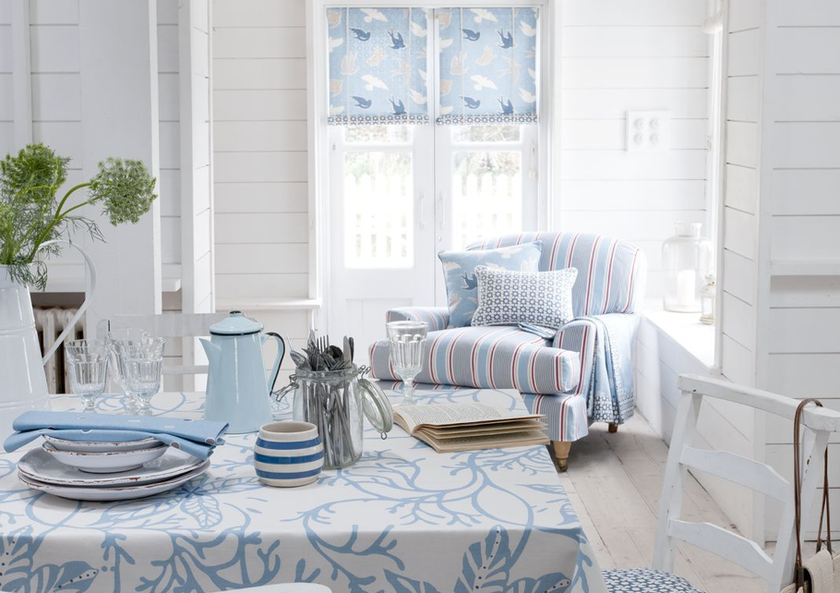 Nautical stripes and beautiful blue hues can bring the air of the seaside swimming straight into a room. Coastal decor has a carefree feel to it, adorning any room with its fresh and relaxed vibe.
There is a somewhat calming nature about it with washed out and weathered shades of blue, white and red with nothing too bold and imposing. Seaside decor can be created with a number of elements, from pieces of driftwood, wicker chest tables, and whitewashed wooden floors to rustic linens and ticking stripe fabric.
Fabrics are a pinnacle part of bringing the elements of a room together. When establishing a coastal look in a room it is easy to do this by combining different textures, colours and themes of fabrics. Ticking stripes are a simple way of getting the sea feel in a room. Typically used as deck chairs, these stripes partnered with plain, natural linens create a rustic feel. Including printed cottons with nautical and seaside themes alongside the ticking and linen is a great way to combine the whole look.
Browse our seaside fabrics on our website to get some inspiration for your coastal decor scheme.