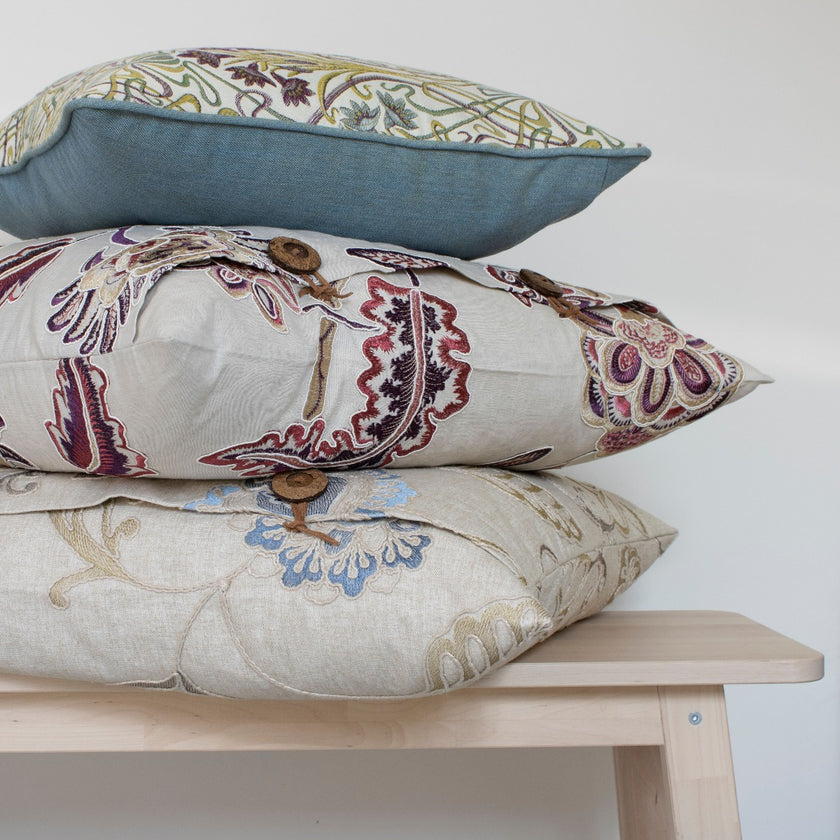 News
Choosing Your Fabric Weight Gauge
Are you turning your hand to a new skill, or taking the next step with your home interiors? In our upholstery fabric weight guide, you'll discover the best light and heavy weight fabric that will help your furniture stand the test of time.
But first things first…
WHAT IS A FABRIC WEIGHT GAUGE?
A fabric weight gauge, or simply 'fabric gauge' is a measure of the number of stitches per inch on a garment. It's a simple equation: the finer the yarn, the higher the gauge. The same applies to the needle – if the yarn or needle are particularly fine, then the stitch will be smaller – meaning we have a higher stitch count and therefore a higher weight.
You'll see fabric weight measured in grams per square metre, otherwise known as GSM. (You may have seen the same metric applied to paper.) Generally, the higher the number, the heavier the fabric per square metre.
This gives rise to terms such as 'lightweight cotton fabric' or 'heavyweight cotton fabric'. If a fabric is 'heavy', it is more durable, which means it can withstand everyday applications and last for years. But it's also heavy in weight, which means it may not be ideal for floatier applications, such as kitchen curtains.
So, what weight fabric for upholstery works best?
FABRIC WEIGHTING FOR CUSHIONS
If you're not ready to go all-out and start upholstering a chair, you can start small. Don't forget to use our upholstery tools guide before you get started.
With cushions, you have some degree of flexibility. Ask yourself how they'll be used – are they likely to be decorative, or thrown around daily by children? If it's the former, you can get away with linen or a lightweight cotton fabric. 
You can get the best of both worlds with our Eden Fabric, which has all the softness of linen with cotton woven in for extra durability.
FABRIC WEIGHTING FOR CURTAINS
Like cushions, you have some degree of flexibility here, depending on the style and the function of the room. A lightweight cotton fabric, around 140 GSM, will work well for blustery floaty curtains. For example, you might consider these if you need a summery solution for your kitchen.
A lighter printed fabric works wonders for less formal settings, like our folk flowers cotton fabric. Equally, it can be used for Roman blind projects.
Reception rooms or period properties lend themselves to larger, heavier curtains. Likewise, these properties may not be as well insulated as modern homes, so you may wish to invest in thicker curtains for the winter months. 
You can go the whole hog and try wool curtains, or supplement the drapes you already have.
FABRIC WEIGHTING FOR UPHOLSTERY
Now, this is one project where you don't want to take a risk with fabric weighting. Heavy cotton or blended fabrics are the only way to go. Not only will you have your range of upholstery tools to contend with; you'll also need to consider that this furniture will be moved around, sat on and cleaned.
But heavy upholstery fabric doesn't have to mean tasteless! Generally, you should stick to durable materials such as cotton, linen, wool, silk, polyester or canvas. Keep it simple with our mediumweight Bull Canvas Twill Fabric, perfect for offsetting against bolder patterns. 
Or if you want something with a little more drama, we're always updating our upholstery fabric range with polyester and chenille in a huge spectrum of colours.
DON'T FORGET THIS OTHER HANDY METRIC…
We've talked about fabric weight and GSM, but you may have heard another term if you're wondering what weight fabric for upholstery to choose. This is known as the 'rub test' and comes from the Martindale Test to determine the durability of a fabric. 
The test works by oscillating sandpaper or wool across a fabric to see how many times it can take it before signs of distress start to appear. The fabric is then given a numerical score in thousands. The higher the number, the more durable the fabric.
If you notice a 'rub test' score on product descriptions, use these values as a general guide:
LESS THAN 10,000 RUBS
This should be used for decorative purposes only. You may want to consider it on cushions or furniture that's not used.
10,000 TO 20,000 RUBS
You can use this for light domestic use, such as for furniture that is only used for short periods. We'd recommend choosing this for dining room chairs (look out for the symbol on our products) or bedroom furniture.
20,000 TO 30,000 RUBS
You can use this medium weight fabric for upholstery projects including armchairs and sofas. Look out for our armchair symbol when choosing products to cover everyday furniture.
30,000+ RUBS
This goes beyond the standard domestic use, and should be considered for commercial projects. For example, if you're furnishing an office or public building that will see chairs getting a lot of use, you'll need a heavy weight fabric.
OTHER THINGS TO CONSIDER WHEN UPHOLSTERING
As above, if you are upholstering for a commercial setting, or just want added assurance, you may also want to consider fire resistant fabric. This is usually polyester and highly durable at more than 70,000 rubs – perfect for not only improving longevity, but keeping you safe.
You should also think about cleaning fabric. We generally recommend you dry clean our products, but we may be able to advise you if you have a small item such as a cushion cover with a machine-safe material.
GET STARTED WITH THE MILLSHOP TODAY
Ready to bring out the upholstery scissors? From light furnishings to chairs and sofas, we offer a range of lightweight, medium and heavy weight fabrics to get your projects going. Order online today for a made to measure service,  or contact us for more advice.