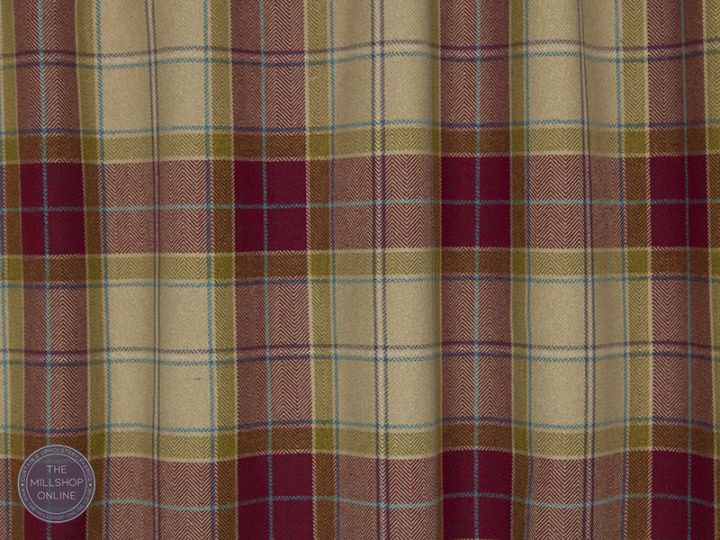 News
Check VS Gingham: What's The Difference?
Checkered patterns have been around for over 150 years, and still remain a staple interior fabric to this day. With so many different types to choose from, it can be difficult to know which is which. 
From plaids to gingham, houndstooth to glen plaid, we've put together a guide to help you tell the difference and work out how to incorporate these fabrics into your home. Take a read below! 
PLAID VS GINGHAM VS CHECK
You may have heard the words gingham, check and plaid used interchangeably when it comes to design, however they are all different fabrics. 
It can be difficult to identify these types of fabric, especially when they look pretty similar from a distance. Both gingham and check are a form of plaid fabric and we've broken down the differences so you can tell the differences between them all.
PLAID FABRIC
Plaid refers to fabrics that are inspired by Scottish tartans. Originally, tartan plaids were perfectly even, with the horizontal and vertical stripes matching in size.
Nowadays, plaids consist of multiple colours and often aren't even in size, giving designers much more flexibility.

GINGHAM FABRIC
Gingham pattern gained popularity during the early 1960s and started as either red, white or blue. Gingham is dyed cotton, or cotton blend, with overlapping stripes of colour on a white background. The squares are sewn together with a white thread that creates a distinctive criss-cross pattern. 
When compared to check, Gingham typically tends to be a smaller fabric pattern. It is commonly used in tea towels, tablecloths and picnic blankets.
CHECK FABRIC
Check fabric, also known as buffalo check, originated as an alternating red and black pattern worn by Lumberjacks. Check pattern consists of a larger design than plaid with alternating colours, so it works well for creating an accent furniture piece. 
WHAT IS HOUNDSTOOTH CHECK?
Houndstooth, also known as dogtooth, is another variation of check fabric. It consists of alternating colours, usually black and white. Houndstooth checks aren't completely square, instead the edges are notched and pointed, creating a unique checkered pattern. 
WHAT IS GLEN PLAID?
Another popular type of checkered pattern is Glen Plaid, also known as Prince of Wales Check. Perhaps the most complex of the plaid patterns, it is a woollen fabric consisting of both small and large checks. Usually, the fabric is muted in colour, with 2 dark and 2 light stripes which creates a crossing pattern of irregular checks. 
WHAT SHOULD I USE CHECK AND GINGHAM FOR?
Now you know the difference between the fabrics, let's talk about how best to use them within your home. If you're new to upholstery, take a read of our blog post, A-Z of Upholstery Supplies, for details on what you'll need!
SOFA UPHOLSTERING
Using a plaid fabric in neutral tones to upholster your sofa will fill your home with warmth. Using simple furniture with straight, simple lines will complement the lines within the tartan pattern to create a cohesive and well put-together living space. 
ARMCHAIRS AND DINING ROOM CHAIRS
Using the larger check fabric to upholster an armchair or dining chair is sure to make it the centrepiece of any room. You can match the fabric to the colours already in your room or contrast them completely with something bright and bold. 
CUSHIONS
If you'd prefer your plaid to be a little more low-key, using the patterned fabric to create cushion covers is a great way to bring it into the room, without it being overwhelming. 
This can work especially well if your room already has a more neutral design scheme, as you can bring in earth-toned plaids to create a warm and inviting space. Or, if you'd prefer, use brighter colours to contrast your current design scheme and add a pop of colour. 
CHECKERED FABRIC CURTAINS
Using a gingham or check fabric to create curtains can really bring your room to life. Using yellows, blues or greens will add some colour and create a focal point in your room. However, if you opt to go for curtains, avoid using them in a room full of patterns already as this may overwhelm the eye.  
OTHER USES
Popular choices for plaid fabrics within the home include tablecloths, tea towels and bedspreads too! Using them this way is a more subtle way of incorporating the print into your home, without it being the main attraction. 

Take a look at our range of checkered fabrics perfect for upholstery online, shop in-store at our fabric warehouse in Northamptonshire, or talk to one of our friendly team members for advice.