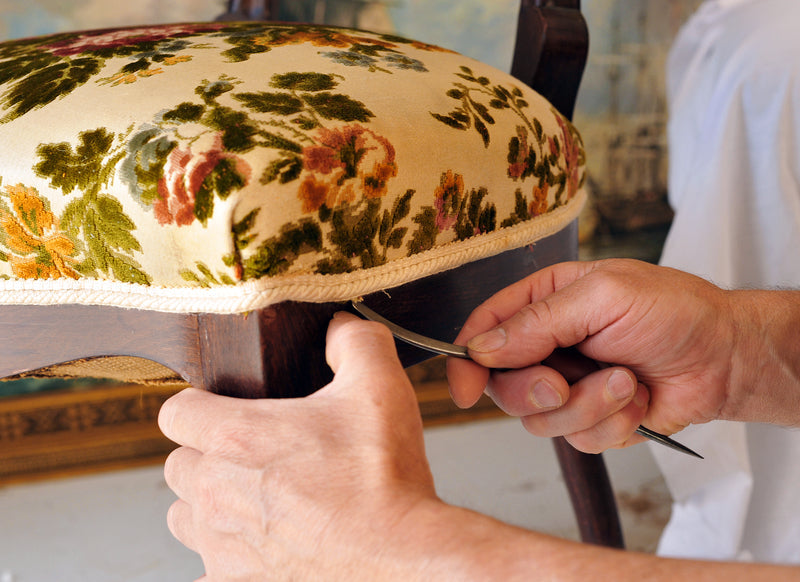 News
5 EASY DIY UPHOLSTERY PROJECTS
We all have a piece of furniture in our home that we've fallen out of love with. When we've had furniture for a while, or inherited it, we can't seem to bring ourselves to part with it - even when it is definitely past its best.
Using simple upholstery techniques, we can transform our unloved items into completely new pieces of furniture. Repairing or revamping furniture doesn't have to be expensive or difficult. In fact, upholstery can be a fun project that brings together your beloved heirlooms with your own personal style.

We have compiled a list of easy DIY upholstery ideas, to inspire you to create something unique. There's never been a better time to convert your old furniture into something new and useful.
THE TOOLS YOU'LL NEED FOR DIY UPHOLSTERY
The first step before you can reupholster furniture will be to remove the upholstery that's already there! But before you get started, it's time to check that you have the right tools to finish the project.
If you don't already have them, some of the essential upholstery tools you may need for most projects include:
Staple gun

Staple remover

Hot glue gun

Pliers

Webbing stretcher

Phillips and flat head screwdrivers

Measuring tape

Button

needl

e

Regulator

Fabric scissors

Edge roll cutter

Curved needles

White and Yellow chalk

Utility knife

Permanent marker

Magnetic tack hammer

Carving knife
For further details, check out our guide to the ideal Beginners' Upholstery Tool Kit.
5 EASY UPHOLSTERY PROJECTS TO TRY AT HOME
CHAIR MAKEOVER - EASY CHAIR UPHOLSTERY
Ever thought that you like your dining room chairs, but they don't quite fit? Or maybe they just need a new lease of life. You can add fabric and padding to the seat of a chair to make it more comfortable and look brand new.
Dining chairs are a great beginner's upholstery project and can get you many more years out of furniture you may have thrown away otherwise. Reupholstering a chair seat is easy yet effective. Simply drape your chosen fabric over the seat and tuck the excess underneath! For some styles of chair, you may need to cut your fabric exactly to size and then simply use a nail strip to cover the stapled edges.
When it comes to DIY seat upholstery, the corners are often the trickiest part - and even those are pretty easy! Read our Beginners' Guide to Neat Upholstery Edges and you'll feel like an expert in no time.
SIMPLE SLIPCOVER - PROTECTIVE SEAT COVERS
If you have kids or pets in your home, then your upholstery might be in danger (or it may have already been damaged!). A slipcover can offer a practical solution and an easy upholstery project, without the hassle of removing existing fabric.
Above all, a slip cover for your living room furniture can be removed and cleaned regularly. So kids, pets and those prone to spills can sit comfortably, whilst keeping the furniture clean underneath.
To make a slipcover, you'll need 4 pieces of fabric: one for the seat, two for the armrests, and one for the back of your sofa or chair.
Simply lay the fabric over your seat and place pins along the edges to join the individual pieces together, following the lines of your seat. Sew along the seams, turn the slipcover inside out, and you're done!
Alternatively, you may prefer to create a box cushion slipcover, as this doesn't require as much sewing machine action.
Behaving like a throw, you'll simply need to order a large piece of your favourite fabric to drape over the sofa. Adding decorative edging as you hem your fabric, you can create a unique look in no time at all.
UPHOLSTERED OTTOMAN - REUPHOLSTERED FOOTSTOOLS
Footstools are a really easy upholstery project that offers great impact. You can transform a coffee table or stool into a stylish ottoman, simply using fabric, staples and foam! Depending on the original furniture's shape and size, you could also store things in the upholstered ottoman such as throws, coasters or laptop charges and remote controls.
An upholstered ottoman provides a comfortable and convenient place to put your feet up, or acts as additional seating space. But, as there's no back or arms to worry about, it's a much simpler project than even the easiest chair upholstery.
Apply some cushioning, lay your fabric over the stool, and fix the excess fabric underneath. Using upholstery tack strips can help to achieve a clean finish. You may want to learn more about Neat Upholstery Edges before you begin.
DIY UPHOLSTERED ROOM DIVIDER - DOUBLE-SIDED UPHOLSTERY
Room dividers can be vital and make a huge difference if you live in an open plan space. They offer privacy for work or rest, and can really help to add "zones" to a room.
But have you ever thought of upholstering your room divider? Transforming a room divider with fabric is a creative yet simple DIY upholstery project to consider.
As a flat surface, with no stuffing, room dividers are relatively quick and easy to transform. The only thing to remember is that they'll be visible from both sides, so don't leave messy excess fabric on the back!
PERFECT BACKS - HOMEMADE CUSHIONS
Once you've finished a DIY seat upholstery project, complete the look with a complementary cushion.
If the back of your chair is uncomfortable or doesn't offer enough back support, create a beautifully designed, upholstered rest pillow. This is one idea that can also help with posture when sitting for a long period of time.
Homemade cushions are the perfect finishing touch to any home, and they're a really easy upholstery project to get started with. Read our step by step instructions for how to make your own cushion covers and choose a ready-made cushion filler to finish the job.
If you're ready to embark on a DIY upholstery project, make sure you've got the tools you need for the job. We've put together a checklist of the essential upholstery tool kit for beginners, to give you a head start.
You'll find everything you need, from upholstery supplies, to upholstery fabric for all styles in our online fabric store.
If you would like any further information, or have any queries, then please feel free to get in touch on 01604 875062.
If you would like any further information or have any queries then please feel free to get in touch on 01604 875062, alternatively you can visit our contact page or view our range of upholstery supplies.